Every day on our blog, women post comments telling their stories and asking for help because their husbands use pornography. As I answer the comments, I'm noticing some common themes. I'd like to share what I'm seeing, because it may be helpful to other women as they evaluate and respond to their own situations.
The first theme is about pornography use: what are men doing?
The second theme is about a spouse's response: what are women (spouses and partners) doing?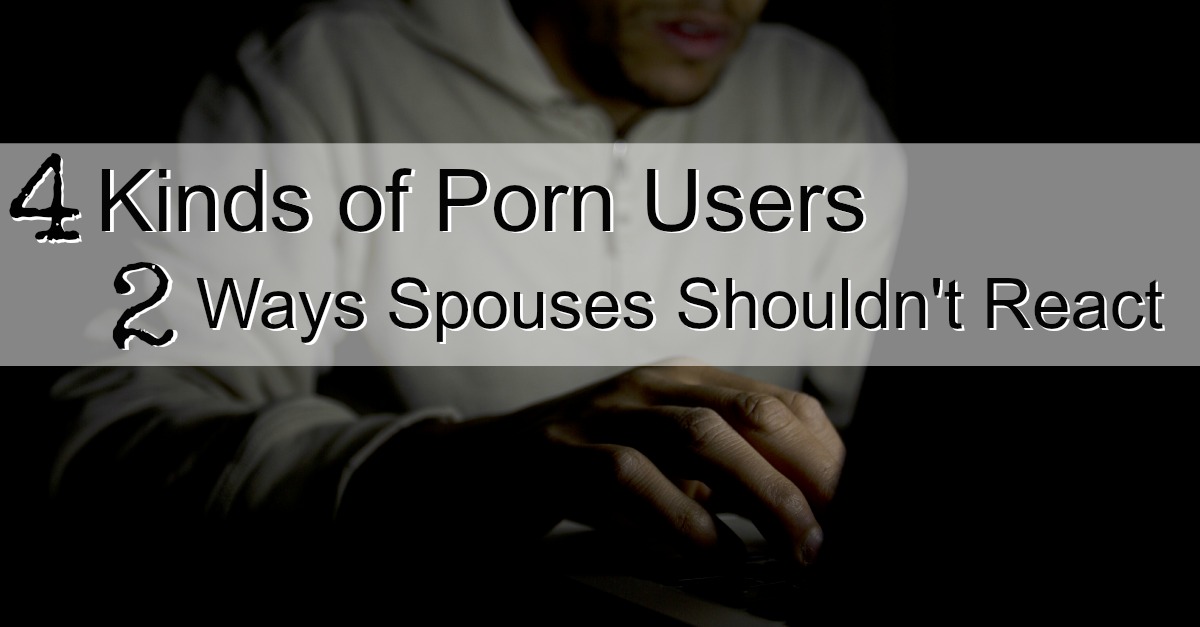 A Spectrum of Unhealthy Pornography Users
From the stories women tell me, I see four general types of porn users. There may be more types, and variations of these types, but these are the types I hear about most often.
1. The Occasional User
I tend to hear about this guy from younger women who are dating, engaged, or newly married.
The Occasional User wants to stay free, but struggles with temptation at various times. He probably hasn't been in treatment for porn, but he may not have done much toward preventing it yet, either.
The Occasional User's biggest enemies: bad Internet habits, lack of accountability, secrecy, and shame.
2. The Serious User
I hear about the Serious User from a wife who's recently discovered his porn use.
When confronted, the Serious User wants to change and takes action toward accountability and recovery. The Serious User makes progress in recovery, although he will likely experience slip-ups in the process. It may be 3 to 5 years before he feels truly free from porn.
The Serious User's biggest enemies: bad Internet habits along with other negative life habits that support pornography use, discouragement at setbacks in the recovery process, secrecy, and shame.
3. The Recovery Addict
The Recovery Addict appears to sincerely repent, has been to therapists, has attended groups, has prayed and fasted and read the Bible at various times. However, he never seems to make much progress in recovery. When he slips up, he can't seem to get back up again; he falls into the pit and stays there until sufficiently dramatic threats force him into recovery again.
When I see a Recovery Addict, I start thinking that maybe recovery is part of an addictive cycle. In his so-called "recovery" phase he may get chemical stimulation via the attention he receives, his tearful repentance, etc. Once the drama of recovery wears off, the addict needs porn again.
The Recovery Addict's biggest enemy is probably a lack of insight.
4. The All-In Addict
The wife or partner of the All-In Addict is either very angry or very shut down emotionally. She may swing back and forth between those emotions regularly, depending on the addict's behavior.
The couple may have been in therapy at various times, but now the All-In Addict may be very blatant about his porn use. He may have escalated to other behaviors, and he may have issues with erectile dysfunction, but nothing seems to shift his interest in porn.
The All-In Addict's biggest enemy is the addiction itself, which has taken over his life.
So, how can you tell what kind of porn user you're dealing with, outside of the user's self-report?
Here's the very best evaluation question I know.
Can your partner…
see the impact of his choices on you,
care about how his choices impact you, and then
work toward choices that are more healthy for the relationship?
If you say no to these—if your partner can't see, doesn't care, and refuses or is unable to work towards a healthy relationship—then I'd say you have some kind of addict on your hands. The Recovery Addict might appear to respond, but over time, you realize he just isn't able to care about you very much. The All-In Addict may just say, "I don't care." That leaves you, I think, in a very sad and sobering situation. If you find yourself in that place today, I would encourage you to seek support immediately with a personal counselor.
A Spectrum of Unhealthy Spouse Responses
No matter where your partner falls on the spectrum—Occasional User, Serious User, Recovery Addict, or All-in Addict—you've got to decide how to respond.
Let's face it: initally, most of us don't respond in healthy ways. We don't know what healthy ways would even look like. We're just freaked out and doing whatever.
I think women tend to respond along a spectrum of two extremes: All or Nothing.
1. ALL
"All" says, "If you ever do this again, I will leave you." The "All" person puts herself in charge of every device. "All" chooses the counselor, schedules the sessions, and drops off the spouse at group therapy. "All" is all about control.
2. NOTHING
"Nothing" says, "Well, I tried, and there's nothing I can do except live with it." The "Nothing" person may have been an "All" person before, but time has beaten her down, and she's just given up on her partner ever changing. "Nothing" may have been told by her church that her husband will be "won without a word" so she should just do nothing and wait.
Let me say that I think it's normal to be very upset and even traumatized by discovering a partner's pornography use. I think it's normal to do whatever you can think of to try and change the partner's clearly unhealthy patterns of behavior, so that the relationship can be saved. Sometimes "All" makes sense to us; sometimes "Nothing" makes sense.
However, our unhealthy responses don't do any good. They don't make change, they just make crazy.
What Healthy Reactions Look Like
Our unhealthy responses are all directed at the other person, and as such those responses are destined to fail.
The reason is this: God did not put us in charge of our partner's free choices.
God did not even put Himself in charge of our partner's free will. Our partners are in charge of their own free will.
Change happens when our partners choose to cooperate with God toward healthy living, not when we somehow force, threaten, or manipulate things just right.
Our job, our only job, is to use our own free will in cooperation with God toward healthy living.
What does it look like to cooperate with God toward healthy living?
Have good boundaries (here's a brief summary of boundaries).
Seek support for yourself, in personal counseling and/or group therapy like Celebrate Recovery.
Educate yourself in issues of male sexuality and pornography use in general.
Trust again only when you see trustworthy behavior over time.
Allow yourself to recover at your own pace, apart from your partner's recovery pace.
Stop all behaviors that are directed toward changing the addict.
Stop all behaviors that are directed toward pacifying the addict.
Expect your partner to take responsibility for himself and his habits.
Expect to know and understand the steps he is taking in recovery.
Expect transparent conversations and openness.
Work toward understanding, and a growing ability to talk about recovery together.
Hang in there. Use your support network. Be smart. Keep your brain turned on at all times.
It can take several years to see full recovery; meanwhile, you should see progress. If you don't see progress, maybe you've got an "all-in addict" instead of a user. In that case, expect the addict to take full and complete responsibility for recovery. Continue to access your support system. Guard your physical health from STDs with abstinence if necessary. Separate from the relationship if you need to.
Here's a listing of other articles for spouses you may find helpful.