When it comes to understanding the messages embedded in pornography, there are few voices I appreciate more than Gail Dines. In this presentation, "Sex, Identity, and Intimacy in a Porn Culture," Dines explains just how disturbing the porn industry has become and why its prevalence has brought about a global health crisis.
Please note: there is language in this presentation that is graphic and extremely disturbing, though the images have been blurred out. The purposes of sharing this video is to educate about the true nature of pornography today. If you are struggling with a strong addiction to pornography, please do not watch this.
Some may ask: why show this if it is so disturbing? We are sharing this with you because we feel society is harmed more by leaving this education buried.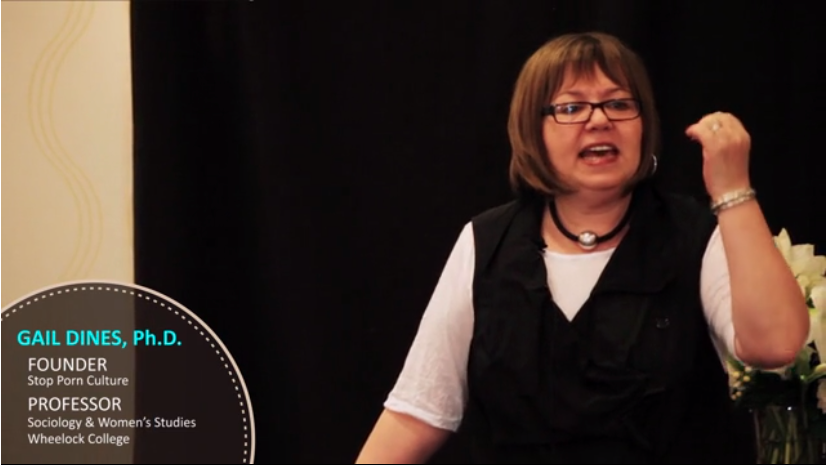 Video Notes:
0:23 – Dines prefaces her presentation: we have to get uncomfortable to realize what our youth are experiencing.
1:03 – Youth are learning about sex from porn, amassing an "encyclopedic knowledge of smut" and becoming "porn-ready."
2:38 – Youth have grown up in an image-based culture with no tools to deconstruct the images they see.
5:26 – S&M is sold as a lifestyle, but it is nothing more than sadism preying on the abused and vulnerable. Dines shows examples of trends in sexual media: what makes women attractive is sexual vulnerability, and what makes men attractive is sexual predation.
8:39 – True feminism is pro-male: biology does not destine men to be users and johns.
9:38 – Rape is not a form of deviance, but "over-conformity to society's messages" about sex. Rape is built into the gender system as it is portrayed by pop culture.
10:23 – Dines offers a definition of objectification: when women (and increasingly men) are delivered up as a series of body parts without any idiosyncrasies or interesting personal dynamics.
11:45 – We live in a sex class system full of double standards. Dines offers several well-known examples.
16:36 – We live in a "perp culture." Sexualized media and "gonzo" pornography grooms our children, where young girls are being forced into an early artificial sexuality, and young boys are being taught that porn sex is what masculinity is all about.
18:33 – The corporatization of porn: Dines explains the place of porn as a multibillion dollar industry, the Internet, Hollywood, and how the business models of porn operate.
24:43 – Gonzo porn: Dines gives examples of the standard sex acts in porn films today. (This is very graphic. Listener discretion is advised.)
34:25 – Dines explains how to fight pornography with a public health approach.
Learn More
Get more information at the National Center of Sexual Exploitation.