Updated as of August, 2020: The following is an excerpt from an ebook that is no longer in circulation. We apologize for any confusion this may have caused and encourage you to instead download Your Brain on Porn.
---
Matt: I know your story is a long one, and we will probably get into it during the course of this conversation. But you left the industry. What was the breaking point or what was it that made you get out?
Donny: You know, I was really motivated by hatred towards God and towards Christianity, and a missionary group came into the pornography conventions that we had every year in Las Vegas, and over the course of 4 years really broke down my hatred. And once that hatred was gone, I couldn't justify what I was doing anymore, and I had to finally cry out to God.
Matt: It's interesting. I remember you mentioning to me that Playboy made you a certain offer the day you decided to quit. What was that about?
Donny: Yeah, on the day I got out of porn, Playboy offered me an additional $4000.00 a day to shoot a new lesbian reality series for them. And it was a day when I had to decide, "Am I going to get even deeper than I already am into this or am I going to leave?"
And over the course of the previous 4 years, as I said, this hatred of God was breaking down, and I had even began talking to God again. I had to make a decision that day. I felt his presence very powerfully in the car after I prayed, and I just had to get out. I just lost all desire to produce on that day. On that drive back to my house from their offices—it's about a two-and-a-half hour drive—I really felt him touch me. I really felt his presence and his touch, and once I felt that, I just couldn't do it anymore. I just couldn't pick up a camera again after that day.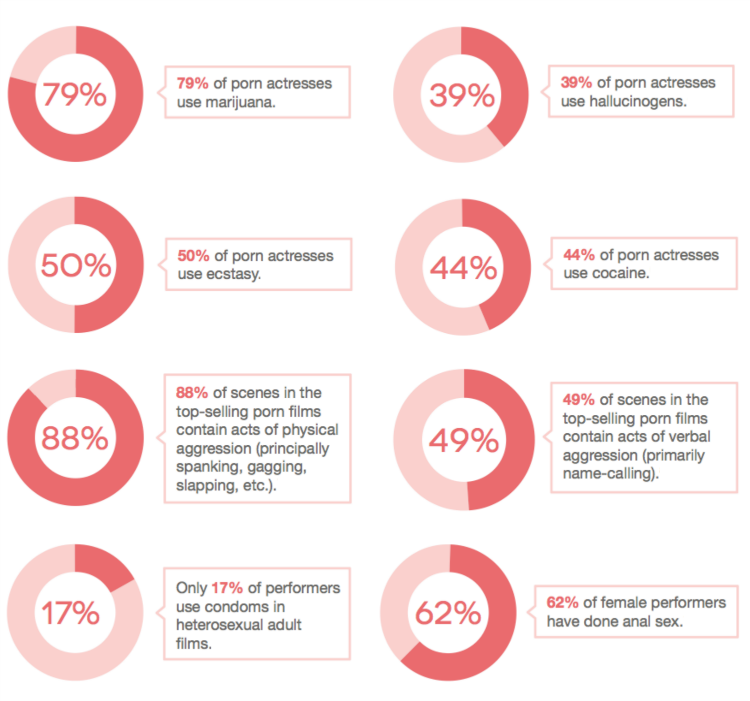 Myth #1: Porn Is Morally Neutral
Matt: Let's begin going through the list of these myths that I think many of us may believe and certainly I imagine the porn industry wants us to believe. The first is that pornography is morally neutral. Someone might make the argument, "Look, pornography is like a gun. A gun is morally neutral, but place in the hands of someone who is irresponsible, it might become dangerous." I think when we are confronted with this objection, it's important that we distinguish between what I like to call the motivational and consequential reasons pornography is wrong, and the foundational reasons pornography is wrong. Let me tell you what I mean. A motivational reason why people often say pornography is wrong is, "Look, a lot of women in the industry may have been abused as little children." What's a consequential reason? The consequences of pornography: "It's addictive," or "A lot of the women in the industry are addicted to drugs and drink," or "It contributes to a lot of divorce."
I think what's important that we distinguish is pornography isn't essentially wrong because of those reasons. I would say the foundational reason pornography is wrong is that it removes the sexuality from its natural context. It removes sexuality from outside of the intimacy of the partners and turns it into a commodity, something to be bought and sold.
Donny: Well absolutely, and in 1 Corinthians, Paul writes about this and he says there is more to sex than just skin on skin. He calls sex just as much as a spiritual mystery as a physical fact. It's the two becoming one. He says, since you want to become spiritually one with the Master, we have to not pursue the kind of sex that avoids commitment and intimacy that leaves us more lonely than ever, the kind of sex that can never become one. And he even says sexual sins are different from all others—in sex we violate the sacredness of our own bodies.
What some people miss out on is that even if we are bonding with an image or video on a computer screen, we are still mystically bonding with this person. It's a spiritual act. That's why pornography is wrong: not because of the things that happen to people, like you were saying, but because of the fact that is just goes contrary to what God intended sex to be.
Myth #2: Porn Is Glamorous
Matt: There is a second myth, and I'm interested to hear what you have to say about this: pornography is glamorous. Is this something you've thought about much before you decided to get into the industry? When you got into the industry, if you did have that preconceived idea, did your experience confirm or annihilate that idea?
Donny: When I first got into the business, I already liked looking at porn. I did so behind my wife's back, you know, when she was sleeping or when she was at work. I thought that there would be nothing better than to get into the business, but I quickly learned that it's not what it's cracked up to be.
People ask me now, "Are you attracted to porn?" and I say, "What's attractive about a girl curled up in a corner in a ball, sucking her thumb in a fetal position because her mind is so blown by what she just went through?"
Matt: This is the stuff you would see while on set?
Donny: Absolutely, you see things like this. You see girls break down crying. I would have a camera focused on a girl, and there would be tears coming out of her eyes.
Matt: What would happen in that situation? I suppose you would have to re-apply the makeup?
Donny: Yeah, we would just have to stop for a while and let her collect herself. And it depended on my attitude that day. Sometimes I'm not in the mood for this. "Come on, knock this off. We have work to do here." People believe the myth that it's glamorous and it's just not. You don't hear about all the things that happen in the lives of these girls and how they break down—and even the guys in the business. They hide it a little bit better, but it's definitely not a glamorous thing.