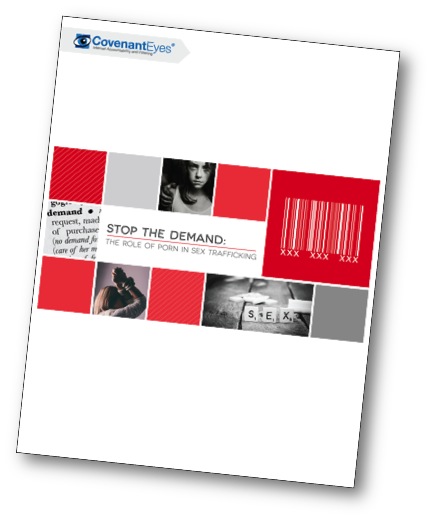 In the book Stop the Demand we address how pornography is a key force driving the demand for sex slavery. Since we released the book, some have asked us for some simple actions steps. What can everyday people do to really put a dent in this problem?
Here are our top 10 recommendations:
1. Take a stand against pornography in your own home. Guard your own eyes and the eyes of your family. By impacting one household at a time, we can change trends in one generation (Covenant Eyes helps with this.)
2. Use social media to inform others. Pass along e-books and videos that you find informative. Don't be silent. Tell others about the Stop the Demand on Facebook or tell those who follow you on Twitter.
3. Host a film night at your church or in your community. We list a number of films in the back of Stop the Demand that focus on pornography as a catalyst for demand:
4. Educate families and kids in your area about pornography. Consider hosting the film UNFILTERED in your home or at your church for parents to learn about protecting their children (watch it online for free). Or consider bringing the program Fight the New Drug into your next local school assembly.
5. Host a party. Host a jewelry, handbag, or card party in your home, featuring items made by rescued victims who are now supporting themselves through their labor. Look into groups like Destiny Rescue, iSanctuary, Freeset, Global Good Partners, Light Gives Heat, Tamar Cards, NightLight Design, StopStart, and Cards from Africa.
6. Intern with a local or national organization. There are a number of great internships available (such as pureHOPE, Global Centurion, International Justice Mission, or Shared Hope International).
7. Give to help rescue and rehabilitate victims. Sponsor a rescued child through groups like Destiny Rescue or International Justice Mission.
8. Get trained on how to identify victims. Watch the 13-minute video "Watch Beneath the Surface" from the Department of Health and Human Services. Report tips to the national hotline.
9. Connect with a local coalition. Volunteers are always needed. Find out what others in your area are already doing. Start with local church groups or look up local coalitions with Restore & Rescue, Polaris Project,  and International Justice Mission.
10. Be an advocate. Find out how your state is doing when it comes to legislation and write to your local congressional leaders to ask for change.
We hope this gives you some ideas!