We're giving away 100 book and DVD bundles worth $25 each (yes, $2500 worth of stuff). Ten people will win 10 bundles each, and all you have to do to enter this giveaway is leave us a comment. In your comment, tell us what you would do with the 10 bundles. How would you put them to good use? Who would you give them to? How would you disperse them? Tell us and we'll choose the best 10 comments as the winners.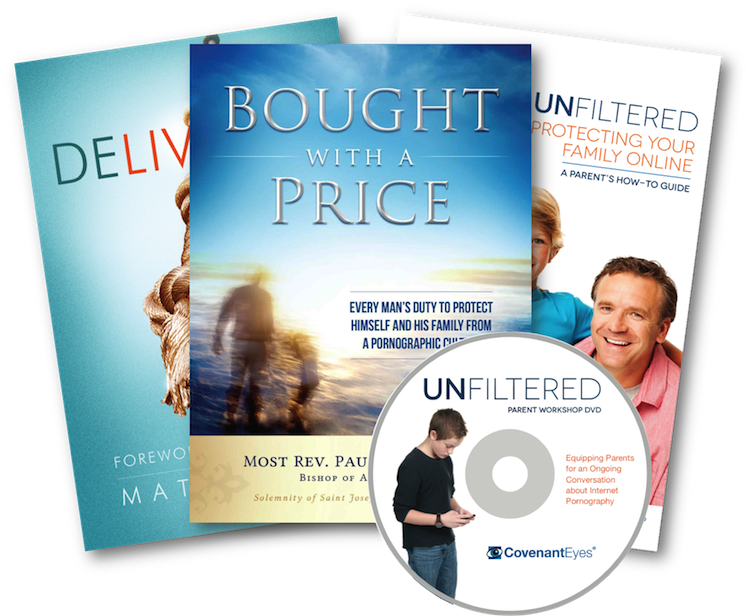 Win 10 Bundles Worth $25 Each
Each bundle includes…
UNFILTERED: Equipping Parents for an Ongoing Conversation about Internet Pornography ($15.00) – This DVD is a parent workshop all about Internet safety and preparing children for our pornified culture. The film has been played in schools, churches, and in the living rooms of concerned parents. The DVD includes top Catholic voices speaking on the subject of pornography. Included with this DVD is the book, UNFILTERED: Protecting Your Family Online, a practical how-to guide on Internet safety.
Delivered: True Stories of Men and Women who Turned from Porn to Purity ($8.96) – In this book you'll read the stories of nine people whose lives were once devastated by pornography and how they found freedom in Christ.
Bought with a Price: Every Man's Duty to Protect Himself and His Family from a Pornographic Culture ($1.00) – Bishop Paul Loverde first issued this pastoral letter six years ago, and recently it has been rereleased, updated and expanded. Covenant Eyes spokesman Matt Fradd, who was asked to write the foreword for this letter, says it "could not have come at a more critical time."
Comment Below to Win
What would you do with 10 bundles? Who would you give them to? How would you personally use the resources? Tell us below. We'll choose the best comments as the winners.
Last day to comment is April 1, 2014, at 11:59pm. We will announce the winner on April 3.