The following is an excerpt from When Your Child is Looking at Porn:  A Step-by-Step Guide for Christian Parents.
---
If you discover your child has developed a habit of looking at porn, or even something that looks like a full-blown "addiction," ask for help. You may not feel equipped to handle this situation, and that's okay. When habitual sin has taken over our lives, we often need help from spiritual leaders to restore us (Galatians 6:1-2).
What drives an addiction to pornography? Certainly there is a biological component at play. Through overexposure to pornography, a person's brain releases a rush of hormones and neurotransmitters, and in some cases, these are similar to the chemicals released during the use of illegal drugs. A drug addict and porn addict are similar in that both, in a sense, are addicted to the high their brains produce. Sin doesn't just affect our mind. It also affects our bodies and brains (Romans 7:23; James 4:1).
Therefore, like other addictions, there are methods that are helpful for allowing a person to "detox." A good counselor can help give your child resources.
Addiction to pornography is also a matter of the core desires of the heart. Pornography is often not a stand-alone issue, but is a symptom of much deeper, more hidden sins. For instance…
A boy might live his young life feeling rejected and inadequate, so instead of turning to God, he turns to the fantasy world of porn to feel accepted by the women on the screen who never tell him no.
A young woman might struggle with a deep insecurity about her body-image, so instead of turning to God for her sense of worth and identity, she turns to the fantasy world of porn to make her feel desirable.
Teens might desire to be in romantic relationships, but they fear the vulnerability of getting close to someone else. Instead of trusting in God to work through their relationships—even their failed relationships—they turn to the "safe" digital world of porn where they can feel "connected" to images that don't require them to be vulnerable.
Of course, other traumatic circumstances can also cause teens to turn to porn as a refuge—divorce, family dysfunction, abuse, and many other problems.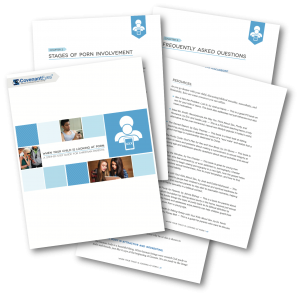 There are many underlying sins and issues that might turn a young boy or girl to pornography, but once children are using porn habitually, it is no longer mere curiosity that is driving their behavior. They are getting wrapped up in "the story" pornography is telling them, the fantasy world where they can escape and "feel right," if only for a brief moment.
Unpacking these underlying sins and beliefs should likely be handled by a skilled counselor or pastor who has experience in this area.
Download and read more in the free book, When Your Child is Looking at Porn:  A Step-by-Step Guide for Christian Parents.
Pure Minds Online | Issue 40 | More in this Issue: Why Your Resolution to Quit Porn Will Fail Miserably | Turning Your Values into Online Values | Join the Fight