He was only 8 years old when he first saw pornography. Sadly, it took months for his parents to discover his growing curiosity.
He had heard the Bible story dozens of times about how Adam and Eve were naked in the Garden of Eden, but for some reason, this time hearing the story piqued his curiosity. He wanted to know what "naked" men and women looked like. So that's exactly what he asked Google one afternoon.
What he got was an eyeful of some of the strangest images he could imagine. By the time he got to the videos, he couldn't really even tell what was going on. Moans and screams, words he had never heard before, flesh on flesh. It was all so shocking to him, even disgusting at times, but something in him wanted to see more.
For several weeks, whenever he was alone with the laptop, he would think about returning to those websites. Sometimes he didn't. Other times he did. And with each glance, the images drew him in more.
Talking About Porn: A Difficult Conversation
Parents want to prepare their children well for adulthood. Most parents want to help their kids navigate the choppy waters of adolescence as they fumble with clumsy sexual feelings and emotions. But what should parents do when their child's senses have been assaulted by graphic sexual images?
Some parents heap angry comments on their children: "You know we don't look at that kind of stuff in this house!"
Other parents are bewildered: "I just can't understand why you would want to look at these things!"
Some parents are minimalists: "If you ever run into images online you don't understand, you can always ask me about them."
But many parents are simply silent.
None of these approaches are the right conversation. Instead, parents need to be able to instill in their children both a sense of the goodness of sexuality and the harms of pornography, all the while maintaining an open, caring relationship with their child.
A Conversation Guide for Parents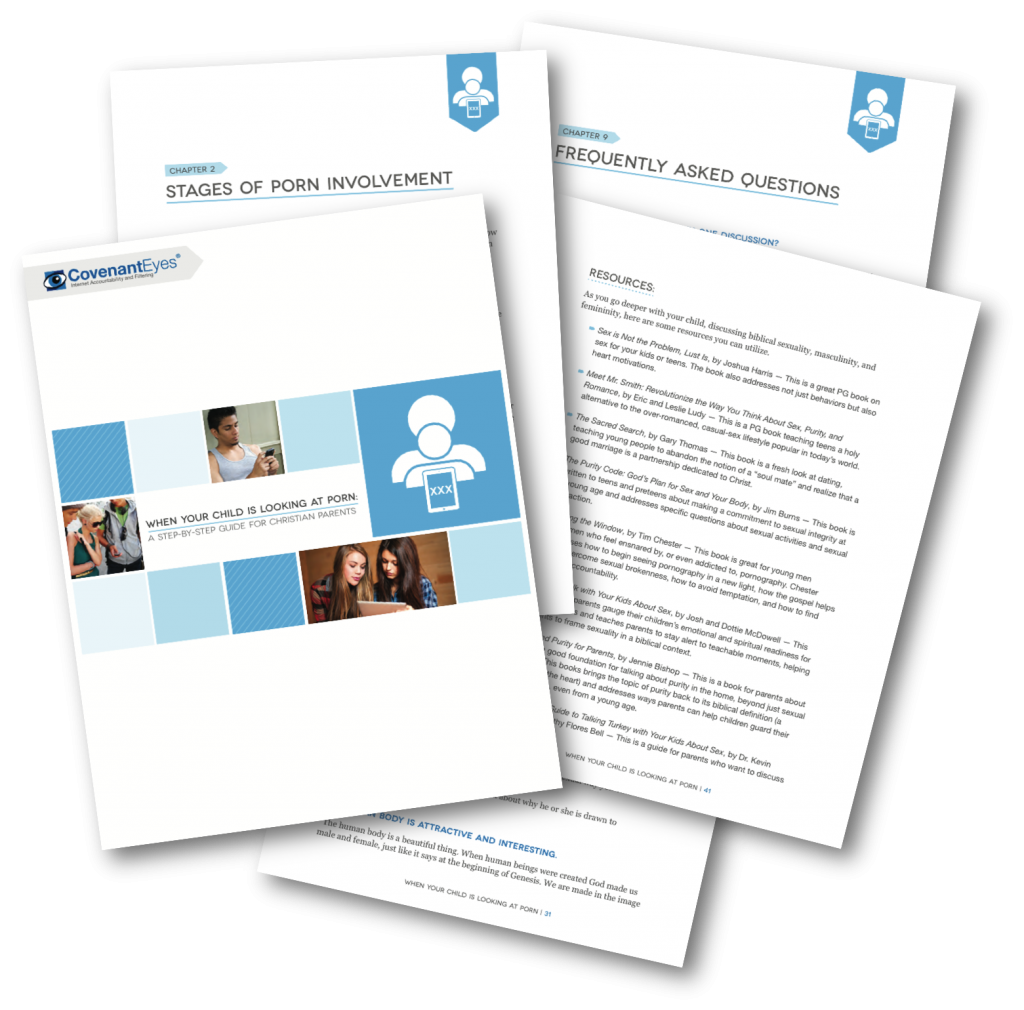 Download a free copy of When Your Child is Looking at Porn: A Step-By-Step Guide for Christian Parents. This short guide offers parents tips on how to prepare for this conversation and a four-step conversation model. Each step comes with sample "scripts" for what to say and how to say it.
In this guide you'll get answers to questions like:
Why is this conversation even necessary?
Won't this conversation awaken more sexual curiosity in them too early?
What if I've never spoken with my child about anything sexual?
What's the difference between "using" porn and being "addicted" to porn?
How should I talk about this if my child hasn't even hit puberty yet?
What if my teen is addicted to porn?
How should I protect my son or daughter from future exposure?
What if I confront them, and they deny it?
Should this all take place in one discussion?
What if my son or daughter just emotionally shuts down during the discussion?
Should I punish my child for looking at porn?
What if I have a history of looking at porn? What should I share with my child?
Is it best for mom or dad to do this talk?
When and how should I talk about masturbation?
How can I use the Bible to teach my child about sex?