by Vicki Tiede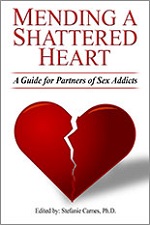 Sexual addiction is devastating to many lives. Quite often the partner of the sex addict is lost in the wake of the devastation. When the addiction comes to light, the partner feels as though the one person they were supposed to trust has betrayed them with lies and deceit. She can be lost in feelings of hurt, grief, and shame.
In Mending a Shattered Heart, the partner of the addict is considered fully in her own recovery from her partner's betrayal. This book is especially for the woman whose partner is in sexual addiction treatment and who has higher levels of sex addiction, such as affairs, molestation, fetishes, etc.
The chapters are divided into two sections:
For All Partners of Sex Addicts
Specific Situations
Mending a Shattered Heart is edited by Stefanie Carnes and 12 professionals who work in the area of sex addiction treatment wrote the chapters. This book primarily addresses female partners, so I will refer to the partner as a woman.
For All Partners of Sex Addicts
When sexual addiction comes to light, a woman faces many very difficult questions and decisions. Mending a Shattered Heart aides this process by defining sexual addiction and offering an explanation of the three levels of sex addiction.
It also considers the stages of healing that are relevant to both the addict and his partner. The authors encourage the reader that further healing may be necessary before she can hear all of the actions the sexual addict has engaged in or make the difficult decision to stay or leave the relationship.
After these initial areas are covered, there is further consideration for setting boundaries in order to stay safe in the relationship and how the partner is taking care of herself through the healing process. Finally, there is a chapter to help her explore her own sexuality and healing that may be needed in light of the sexual addiction. Throughout the book the reader is frequently encouraged to discuss the content with her counselor/therapist.
What about the Kids?
One chapter that could be helpful to many pertains to what a parent should tell their child about the sexual addiction.
Some of the reasons to disclose the addiction to children would include: a desire to be open and honest in communication, the avoidance of keeping family secrets, and a hope to stop the transmission of addiction to the next generation.
There is also consideration on what kids might ask at different developmental ages. Ultimately, the developmental age and maturity of the child should be considered and the book advocates a therapist's involvement in this decision process.
Specific Situations
This second section is meant to address specific situations that may not be a concern to all, but may be to some. Some of the additional topics include a consideration of situations in which the sex addict has interests in minors or engages in same sex relationships. Another chapter focuses on the partner who is leaving the relationship with the sex addict and offers do's and don'ts to consider. The chapter called "Can We Make It as a Couple" goes through a number of questions answered by a couple who have gone through the recovery process and gives further understanding from a real life perspective.
Conclusion
There are a number of very helpful aspects to this book, which is quite thorough in covering the topics and issues that a partner of an addict will face.
I believe the person who will benefit most would be one who has been deeply impacted by sexual addiction—especially those defined as level two or three. It is written from the perspective that individuals will be going through treatment and have a therapist with whom they are able to process information.
This book follows more of a 12-step recovery model and while faith is mentioned, it is given a very small amount of attention. Those who are seeking healing in conjunction with God's Word will find better resources to meet that need elsewhere. Nonetheless, there are likely helpful aspects to this book for any partner dealing with sexually addictive behavior.
I recommend this book particularly if there is a spouse in treatment and the partner is working with a therapist too.
---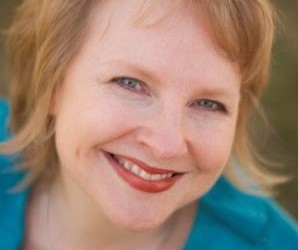 Vicki Tiede is the author of When Your Husband is Addicted to Pornography. She is a Bible teacher and conference speaker. Vicki is a wife, homeschooling mom, and the coordinator of women's ministries in her local church. Vicki holds Master's degrees in Ministry and in Education.