by Abigail DeHaas
She seized Jeremiah Anthony with an unexpected hug while he waited in the pizza line at school. Then she told him her story.
"I was going to kill myself, but I saw your compliment to me on my Facebook page," she explained, "and I realized how dumb it'd be to kill myself, and that I do have worth, and people do care about me."
This is not a new occurrence to Anthony. He is the creator of the "West High Bros," a group of high schoolers dedicated to using social media to encourage and support their fellow students.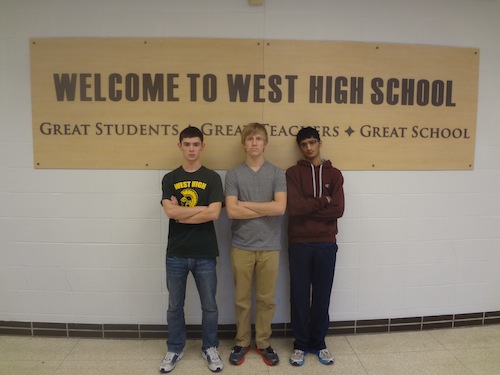 Fighting Fire with Fire
Bullying someone via the Internet is known as cyberbullying. It can include gossiping, harassment, impersonation, and slut-shaming. And it's common: 88% of social media-using teens say they have seen someone be mean or cruel to another person on a social network site. 12% of these say they witness this kind of behavior "frequently."
The focus of most anti-bullying campaigns is to teach kids not to bully others. But Anthony didn't think that was enough. He got annoyed when his own school told its students not to bully each other, but failed to offer positive solutions to the problem. So, Anthony and several of his friends took the initiative a step further, and created a Twitter account that gives anonymous compliments to fellow students.
The West High Bros took advantage of the anonymity of the Internet; but instead of using it to tear down other people, they use it to build others up.
Beating Cyberbullying with Cyber-Compliments
Complimenting popular and unpopular kids alike, the West High Bros search for the good in all people: "Everyone has worth; everyone deserves a good time" is their tagline.
"Even the bullies get great and sincere compliments," says Anthony. "A compliment has to be sincere or it's no better than an insult."
They regularly tweet kind words to other students, such as "[You're] incredibly spirited and intelligent. You're always reaching out and sharing your wonderful smile. You'll be missed next year," and "You not only impress us with your sense of humor, but also with your relentless journalism skills and work ethic. Keep it up!"
Aside from from giving their fellow students an ego boost, the West High Bros' mission has had some other positive consequences. The girl who hugged Anthony in the pizza line isn't the only one who has told him his efforts prevented her suicide. Anthony says this has happened several times, including with a boy who now uses his experience to help others overcome suicidal thoughts.
"I hope the positive movement spreads everywhere and that the world becomes a happier place," says Anthony. "I don't want to just end bullying, I want to improve the happiness of my surroundings one tweet at a time."
Cyberbullying is scarily easy to cultivate, and has even driven some teens to suicide. But just as a single negative comment can do irreparable damage to someone, so can a single positive comment bolster someone's self esteem. With so much bullying happening online, it would be beneficial for other teenagers to take a queue from the West High Bros. To all the teens reading this blog: go beyond simply "not being a bully." Give some cyberpraise; you could save a life.
Pure Minds Online | Issue 34 | More in this issue: The Path to True Intimacy and Better Sex | 10 Reasons Why Accountability in the Church is Unpopular