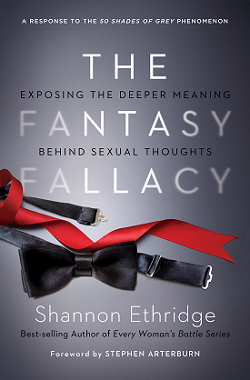 In the area of women's sexual purity, Shannon Ethridge is a rock star. She's a sought after writer, speaker and life coach. Her books include: Every Woman's Battle, Every Young Woman's Battle, and The Sexually Confident Wife.
Her latest book, The Fantasy Fallacy: Exposing the Deeper Meaning Behind Sexual Thoughts, is not just a book for women. It's written for men and women who are seeking pure thought lives and understanding when it comes to the types of fantasies they have.
50 Shades Proves a Need for the Truth
The author wanted to write a book for several years about understanding fantasies. It was the 50 Shades of Gray phenomenon that alarmed her. In my podcast interview with her, she shares:
"What really concerned me is when I saw that the sales of whips and chains were spiking as a result of this fiction trilogy. And I thought, wait a minute, people aren't just interested in the fantasy and learning what it's about, they're actually acting it out. And my heart broke!"
The Fantasy Fallacy is not just a counterpunch to 50 Shades. The book is an encouragement to the reader to examine their own fantasies, seek understanding and to seek help from others who can facilitate God's healing.
This book dares to plunge into topics we feel shameful about:
Pornography
Objectification of others
Lust
Bondage and pain fantasies
Gay and lesbian fantasies
Power fantasies
Fetishes
Adultery fantasies
Multiple partner fantasies
You're Not Alone in Struggling with Fantasies
The author helps us know we are not alone. She gives the reader courage by calling these topics out onto the page, sharing stories of others who struggled and found victory, and shares great thoughts about why we go certain directions with our fantasies.
"In order to consider the roots of our thinking, we must allow ourselves to descend into the dark places, the hard places we (ourselves and the church) have tried diligently to avoid in the past.  We must learn to live in the tensions that our fantasies often create.  We must identify not just the surface of the fantasy but the very source of the inner tension – in other words, why we feel the way we do about the thoughts that we have.  That can be found only as we descend into some of the soul's unexplored chasms." (p.53)
The Fantasy Fallacy is a well-researched book. The author draws from her coaching and speaker experiences. She frequently quotes authors and psychologists who understand fantasies and the desires beneath. I could feel the depth of this book.
Taking Thoughts Captive is a Deeper Battle
As Christians, we know we need to have pure thoughts and "take captive" ungodly thoughts. But how do you do that? Fantasies are thoughts run rampant.
"How can we 'take thoughts captive' unless we acknowledge the true nature of those thoughts and seek to fully understand where they come from?" (p.74)
The Fantasy Fallacy will help you to understand why you keep fantasizing about the same things and how you can be free from their grip.
Helpful Links