Helping educators safely use iPads in the classroom and homeschool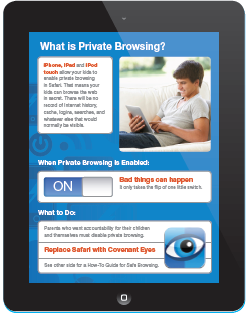 Instead of a big backpack overloaded with textbooks, many kids are walking home from school with something new: an iPad. The problem is, schools are doing little to prevent students from private browsing (a.k.a. "porn mode"), especially when they step off school grounds.
A growing number of schools and homeschool educators are recognizing the danger and taking action to protect their kids, namely replacing the iPad's Safari browser with a browser like Covenant Eyes, turning off the app store, and locking it down with a parental passcode. Covenant Eyes offers monitoring of Android phones and tablets, too. (Update for April 2014: The Android app now has the ability to lock down other apps on the device.)
"We don't want kids exposed to offensive content no matter where they are," said Nicholas Hoover, Director of Technology at Pinecrest Academy in Cumming, Ga.
Pinecrest Academy adopted a policy that allows students to "bring your own device," often shortened as BYOD.
To protect kids, Pinecrest is taking a two-pronged approach. First, the school secured how mobile devices work on campus, and second, it has teamed with Covenant Eyes to educate parents on how to monitor mobile devices and computers while kids are away from school.
To protect Pinecrest Academy students, the school has filtered the Wi-Fi available on campus to block inappropriate content, and it uses technology that prevents devices from sharing files or test answers electronically. In addition, the school is able to block applications like Skype, YouTube, Twitter, and iTunes from accessing the Web.
While those actions secure devices (including Android phones and tablets) at school, all of the problems reappear once students step off the Pinecrest Academy campus. That's why parents have to take action, too.
"Our goal is to help parents," said Ryan Foley, an Internet safety and security expert with Covenant Eyes and an adviser to Pinecrest Academy.
"The Apple and Android devices are wonderful teaching tools, but if you give one to your kids, you need to take steps to use parental controls and software to monitor how that device is used," Foley said. "The very best of kids can run into temptations and problems online, and you have to take steps that prevent problems and make you aware of issues when they arise."
iPads, especially, are amazing educational tools when used appropriately. Pinecrest Academy conducted research that showed students who had been trained on mobile devices adapted better to the college environment and had an educational advantage over students who had not. Because Apple teamed up with text book manufacturers and education app creators, many schools are even providing iPads and doing away with text books. These tablet textbooks include video, graphics, and even games that engage students in ways a paper textbook cannot.
Trisha Gilkerson homeschools her son Bradley, 8, who enjoys geography learning apps like Stack the States and Stack the Countries. He has already learned where most of the U.S. states belong as well as a lot of their capitals.
"It's easy to use, even for Cameron, who is 3," she said.
Foley's family also uses an iPad, and he appreciates how it can help make learning fun. But he cautions parents to learn how to put practical safety measures in place.
"Parents are sometimes overwhelmed by technology, but with a little effort and advice any parent can understand how to keep their family safe," Foley said. "It's not about good kids or bad kids, it's about modern parenting and protecting your child from very real dangers and temptations."
To schedule a free school consultation with Ryan Foley, contact him at ryan.foley@covenanteyes.com.