When I downloaded and installed accountability software for my web surfing, I was several years removed from my interest in pornography. I used to have a serious problem—the rotten fruit from a seed planted by a kid's dad's adult magazine brought on the 5th grade school bus, grown in the fertile manure of my flesh. Roughly twenty years later, God worked a miracle in my life—I would not have repented otherwise—and my taste for porn was subsumed by the sweetness of Christ and his gospel.
But one of the things I learned even as I was growing by leaps and bounds in Christ is that my heart is deceitful above all things (Jeremiah 17:9). I had become intimately familiar with what I was capable of. So it made total sense to install a layer of accountability in this way, not to keep me from looking at pornography but to provide reminders and assurances to myself and others. Here are three reasons I use Internet accountability software:
1. It takes away the solitude of surfing.
Sin thrives in the dark. For most of us, Internet use is a solitary endeavor. Even when we are in a room with other people, the screens of our computers and mobile devices have a way of sequestering us mentally and emotionally, interrupting our attention to and interaction with others. But the Christian life is designed to be lived in community. So using accountability software provides another set of eyes on my online activity. I would not be able to say "Nobody would know." All of the time I spend on the web is no longer private time, even if I'm surfing all by myself.
2. It prevents morally lazy browsing.
Oh, I still surf lazily, perusing my friends' silly Facebook updates and taking in quirky news items and updates on Bigfoot sightings online. But since I know a record of every questionable site I visit will be sent to my designated accountability partner, I am more at attention about sites that offer sexual titillation, even if not outright explicit content, knowing that all the devil needs is a foothold (Ephesians 4:27). This includes websites featuring both sports and entertainment news, two areas I am interested in, as well some notorious news sites which know that sex sells. None of us can pursue purity on autopilot. Accountability software helps me stay mindful (2 Corinthians 10:5) and intentional about my time online.
3. It gives those who love me confidence in me.
When I first began using accountability software I designated fellow church leaders as recipients of my updates. I wanted them to be confident in their pastor and friend's online habits.
Accountability software doesn't cure interest in pornography, especially since there are so many delivery methods for the drug, but it was just one more way to help build their confidence in my leadership, not to mention of course to have them hold me accountable.
I have since added my wife to my accountability list. She now receives a list of every questionable website I've visited on a weekly basis. I didn't add her because she didn't trust me. I added her because I wanted to continue showing her that her trust is not ill-founded. It is a way of loving my wife, showing her transparency in this way and helping her confidence grow in my leadership of our family.
---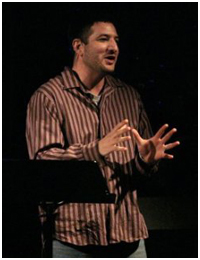 Jared Wilson is the pastor of Middletown Springs Community Church in Middletown Springs, Vermont, and the author of the books Your Jesus is Too Safe: Outgrowing a Drive-Thru, Feel-Good Savior and Gospel Wakefulness. He is also the author of the LifeWay Bible study resources Abide and Seven Daily Sins. Jared has written for Rev! Magazine, Tabletalk, Exponential's Leadership Learnings, Pulpit Helps Magazine, Disciple Magazine, Collegiate, and numerous other publications. Jared blogs for The Gospel Coalition and The Thinklings.