This post has been updated as of June 2021. 
It's one of the most far-reaching aspects of sexual sin today, and it's one of the most easily accessible. It can be within our grasp within seconds, yet the consequences can last for decades. Pornography is a worldwide multi-billion dollar industry. Annually. Bringing it closer to home, 50% of Christian men admit to being addicted to porn. Fifty percent! How many more have not yet admitted to struggling with pornography? Clearly, this is a pervasive issue even within the Body of Christ.
My husband, David, is one of the many Christian men who has struggled with pornography. Years before we met, he was quickly drawn in and enticed by the ease with which pornography was obtained: in the privacy of his own home. Going to church on Sunday yet desperate to end this secret sin, he was caught in a cycle of doing what he didn't want to do and not doing that which he wanted (Romans 7).
Finally, he chose to confess his sin and sought accountability. In addition to the men in his life that provided this accountability, he also chose drastic measures to ensure the temptations to this sin were minimized. He even went so far as to disconnect the Internet from his house for several years.
Accountability Software
Later, he came across the accountability service, Covenant Eyes. It was very easy for him to set up and the protection was immediate. He approached close friends and co-workers and asked for their help. Once they accepted, they received weekly Accountability Reports of his activity. Whenever anything was flagged, these guys would faithfully check in with him regarding the questionable sites. Through this accountability, he was protected from giving in to temptations in weak moments.
And over time, by fighting these desires and maintaining this accountability, the frequency of temptations has greatly diminished. Because David experienced such fruit in his life from this tool, he was eager for his roommates to experience the safeguard as well. He began requiring all roommates to utilize Covenant Eyes before gaining access to the Internet.
Years later, when we were dating, and he shared with me his past struggle with this sin and the measures he took to protect his heart and mind, the fear that tempted me was quickly replaced with respect and a deepening love. A man that struggles with sin is common. A man that goes to these lengths to protect himself and his future family from the devastating effects of sin? That is not so common. David gave me the names of the men who received his reports – they are all men I also know and respect. They were (and are!) constantly checking in with him and reviewing his reports for anything that could begin a road to destruction. Additionally, David refused to get the newest smart phone until Covenant Eyes had an app available. All of this spoke volumes to me: this was a man who was serious about protecting his purity and our relationship!
The Fruit of Years of Accountability
These days the temptations to view pornography have been fought for so long that he experiences very few temptations anymore – he is winning the battle! Even so, David chooses to continue this service because he recognizes how quickly sin can take root. He refuses to allow himself to become complacent or to think he's "arrived."  As his wife, this is so beneficial in helping me to trust him. My husband is a man, a sinner saved by God's sanctifying work on the cross. However, he is not above temptation – as are none of us! So knowing that my husband is actively protecting himself and us has built into our relationship a level of trust that I think would be missing otherwise.
We are both very grateful for the men who have provided accountability to him in this area for years. And we are passionate about educating the Body of Christ with how easily ensnared are Christian men, women and children into the trap that is pornography. Covenant Eyes offers a safeguard against this temptation to sin. And while nothing can replace the work of the Holy Spirit, tools like Covenant Eyes provide active and immediate accountability for the weakest, quietest moments wherever we are.
---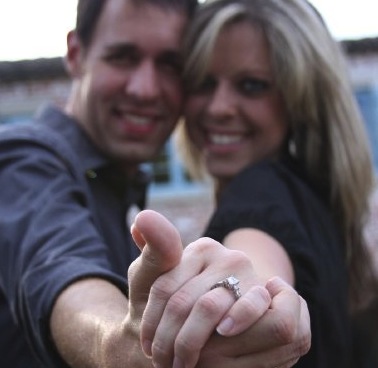 Jennifer Fountain has been married to David for two years. They have three beautiful babies who will turn a year old in October – yes, triplets. Together they write about their life, marriage and learning to parent on their triplet blog. The Fountains make their home in Orlando, Florida.