By Katie Wheeler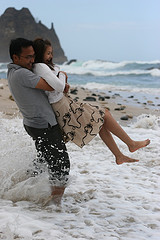 Is finding a pure man hopeless in this generation? Does a woman have to compromise her ideals and desires because of today's culture? These and other questions plague many women who are seeking a long-term commitment, one that might lead to marriage.
The use of pornography has become so commonplace, that many women wonder, "Can a woman find a pure man?"
Setting Standards
A woman should begin the process of searching for a pure man by setting a standard for herself. This lays the foundation to attract purity, says Heidi Monuteaux, founder of Moshia Ministries, which helps families recover from sexual addiction.
Monuteaux describes foundational behaviors and practices that can lead to a pure relationship.
Prepare by being a woman that attracts purity (modest clothing, behaviors, attitudes, etc.). A woman cannot expect to attract a pure man if she is not pursuing purity herself.
Build self-esteem and confidence in Christ and in God's purpose for one's life. A woman who doesn't know who she is will attempt to fill her emptiness with the wrong kind of attention.
Know what you want in a man. A young woman ought to make a clear and detailed list of what she is looking for (personality, standards, morals, qualities, family of origin issues, etc.). Lay it before the Lord and ask Him to provide.
Make firm decisions ('pre-decisions') about what is and is not acceptable in a spouse. Before dating begins set personal guidelines, then be very forthright and ask any potential suitor the hard questions as early in the relationship as possible. Women must be prepared to act on those pre-decisions regardless of the feelings involved. Feelings will fade and change.
Ask tough questions, such as "Am I willing to allow pornography, and all that it encompasses, into my relationship?" If not, what is she willing to do to avoid it?
Look for a man in the right places.
Be realistic. No man (or woman) is extensively self-examined, whole, polished, healthy and pure (especially if you marry relatively young). A good husband will not be perfect, but he will passionately pursue purity.
After marriage, do not forget that the woman is supposed to be the husband's helper. The woman is God's provision for his needs. Even in sin, God can use both partners' weaknesses to shape and make them more like Him.
These practices, Monuteaux says, will help a woman set standards for herself just as she is hoping her future husband will set standards for himself.
The Porn Problem
Women must take into account what they do and do not want to deal with in a relationship with their future husbands.
"It is important to understand that pornography feeds lust, and lust serves self," Monuteaux explained.
Lust has a whirlpool effect that is difficult to escape, she said. It pulls and pulls until the viewer gets sucked in and cannot get out. Women must be aware of this luring temptation. If this is a stronghold in a man's life, she said, it will continue to grow and feed his selfish nature through his lifetime.
"What aspects [of a relationship] aren't strained [by porn]?" Monuteaux added. "The aspects that are most strained are intimacy, trust, finances, communication, time, attention, presence, boundaries, and a healthy view of what sex should be like."
If a woman found out that her partner was using pornography, what should she do? Should she abandon the relationship completely, just hit the highway and allow him to figure out his own problems? Monuteaux said she would counsel a woman to use grace and mercy in a relationship with these circumstances. She would not abandon the relationship right away but would look at the actions of her partner and see if he had a repentant heart and a willingness to seek godly help and counseling.
"If she is willing to stick around for at least six months, she could be a part of some profoundly wonderful redemption in the life of the man," Monuteaux said.
Women need to be honest with themselves and decide what they are willing to do if something like this arises in their relationships, she said. If her partner has a willingness to seek help, a woman should make her decision based on what she believes she can handle, and what she believes God is leading her to do.
Monuteaux offers warning signs that a husband might be viewing porn.
Up late at night on the computer or other web-based gadgets by himself.
Mysterious phone or credit card charges.
Isn't accountable to anyone regarding his Internet use.
He regularly cannot account for his time.
Unreachable when working late or traveling.
Acting distant and mentally pre-occupied.
Either makes or receives mysterious phone calls, but refuses to explain.
Is rebellious when responding to authority.
Controlling behavior.
Secretive about his personal life.
Gets defensive when topics of lust and pornography are brought up.
Flirts with people of the opposite sex.
Does not respect the sexual boundaries of others with actions or eyes.
If a woman is looking for a man who is pursuing purity, she can search for the opposite of this list. Look for a man who desires to be open about his behaviors. One of the first steps women should take to protect themselves, and potentially their families, is to call out a problem, and to get counseling to heal from the hurt. If there is no problem with pornography, then take the time to sit down and determine what measures will be taken to protect both parties, as well as the potential family in the future. "Put to death, therefore, whatever belongs to your earthly nature: sexual immorality, impurity, lust, evil desires and greed, which is idolatry" (Colossians 3:5, NIV). Humans have a sinful nature, and no sin is greater than another, but sin must be dealt with.
Pure is defined as unmixed with any other matter; free from dust, dirt, or taint. Humans are born impure. Therefore the hunt for a "pure" man is impossible.
"Rather than asking if a man is pure or impure, I think the question is: "Who (or what) is the focus of his heart's affections?"  Monuteaux said.
Photo credit: DMahendra on Flickr