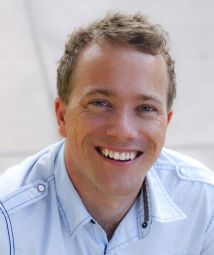 Recently we've been speaking a lot with Matt Fradd, an emerging voice for sexual purity in the Catholic world. He's an apologist and speaker with Catholic Answers and is one of the chief architects behind ThePornEffect.com.
Matt's most recent message, The Man Talk, is now available on DVD. I had a chance to pull him aside and ask him a few questions about it.
1. Give us your elevator pitch: If you had 30 seconds to describe what The Man Talk is, how would you describe it?
In The Man Talk, I ask the question, "What kind of man do you want to be?" I'm convinced that if and when a man reflects deeply upon this question, he will undoubtedly arrive at the answer that is, in some way, synonymous with who God is commanding him to be.
In other words, men don't typically think to themselves, "I want to be the type of guy who cheats on his wife," or, "I want to be the kind of man who never stands up for what he believes in." I'm convinced that we, as men, know innately what constitutes authentic masculinity and what does not. The Man Talk taps into that desire and then lays out a game plan of how to achieve it.
2. In The Man Talk you try to give us a picture of authentic masculinity. How does this differ from other men's talks?
St. Irenaeus of Lyons wrote, "The glory of God is man fully alive!" For me, the holy man and the man who is fully alive are one in the same person.
One of the reasons I was happy to write and deliver this talk is that I've been disappointed in the past by men's talks I found too restrictive. They either seemed to lean too much one way—"if you don't know how to hunt, you're not a real man!"—or too much the other way—"if you don't cry once a week, you're not a real man!"
What I hope was apparent in this talk is that rather than telling the men how they should feel or act, I simply asked questions and told some powerful stories of God-fearing men throughout history, in order to awaken that hunger for authentic masculinity that, I think, we all intuit.
3. In this DVD you talk about "breaking rules" to become authentically masculine and Christlike. Give us a taste of that. What is one rule we have to break? Who made up these "rules"?
Yes, that's right. Throughout our life we are given these "rules" either by other men, society, our parents, etc. I'm convinced we need to break them.
Let me give you one example. One of the rules I tell the men to break is "Never think about sex!" Christian apologist Frank Sheed wrote that "Modern man practically never thinks about sex." What does he mean? Well, we may dream about it, sing songs about it, joke about it, but how many of us actually sit back and think about it? What is sex? What is its purpose? Who designed it? Most of us don't realize that the very first commandment in the Bible from God to humanity was to "be fruitful and multiply" (Gen 1:28). And as one philosopher noted, God did not intend by that command for us to grow oranges and invent calculators. In short, how to heal a sexualized world? We begin by thinking about sex.
4. As a Catholic, you speak to Catholic men about "Catholic manhood." Could a Protestant like myself still get a lot out of this DVD?
Absolutely! While I do indeed use some Catholic jargon here and there, the basic message is one believed by all Christians. God meant something when he made man. He desires men to come fully alive, He is at war with whatever is against that life—namely sin!—and because of the redemption won by Jesus Christ, we can walk in newness of life, regardless of where we've been or what we've done.
Praised be Jesus Christ, now and forever!