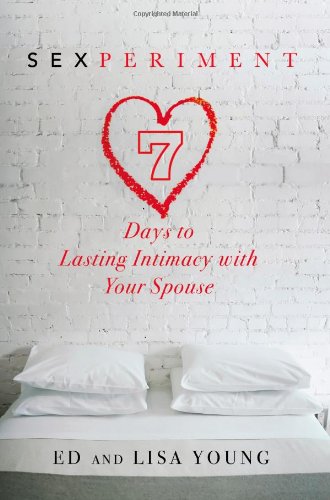 Quick Summary: Sexperiment encourages married couples to have sex seven days in a row. The challenge is a gateway to couples rediscovering intimacy, serving one another and the importance of making time for each other. The book is easy to read, engaging, and exciting. The book doesn't fail to address hard or sensitive topics. It is Christ-centered and full of Scripture and biblical wisdom about sex and intimacy. At the end of each chapter are discussion questions, wisdom to engaged couples (Before You Do), and wisdom to singles (The Yoke is Not a Joke).
Authors: Ed Young is Pastor of the very large Fellowship Church in Grapevine, Texas. He and his wife Lisa have authored several books separately and together.
Wow! Seven Days of Sex
Q:  What do you think of this challenge, without even reading the book? 
"Awesome! I've been wanting to have more sex with my spouse!"
"Oh, no! This is the last thing I want!"
"This book must be written by a man… they want sex all the time!"
"The idea of this scares me to death!"
"How can seven days of sex change my marriage?"
I heard all of these voices before I read this book.
The Sexperiment challenge a jump-start to intimacy, not a fix-all. The authors make that clear in the first chapter. They believe the Sexperiment will force married couples to carve time for each other, talk about issues, listen to each other, serve each other, and play together (priorities often lost in marriages).
The Biggest Hurdle for Me with This Book
The way this challenge is packaged is careless.
The initial impression is: "Having Sex for seven days in a row will revolutionize my marriage." It seems no different from an infomercial that advertises magic weight loss pills, 10 easy steps to making a million dollars, or 90 days to looking like a men's magazine fitness model.
That's not what the book is about. Even though the authors dismiss this thought train in the first chapter, it took me several chapters to flush the "infomercial filter" out of my mind.
The thesis of the book should be more clearly defined:  "Having sex for seven days in a row can be a useful tool to help you rediscover true intimacy in your marriage."
There are actually two hurdles you have to jump over before you get to the meat of this book:
Our per-conceived ideas of what we think this book is about
The need to better define the purpose of the challenge
Gimmie the Guts
I think the guts of this book are great. It is easy to read and interesting. The authors are good communicators. There is a lot of sound biblical advice about marriage, intimacy and sex.
Sexperiment is really a marriage book with a sex emphasis.
The authors help the reader understand that intimacy is not just physical. True intimacy happens on emotional, relational, and spiritual levels too. This seven-day project of focusing on sexual intimacy is intended to be a catalyst for the other types of intimacy.
Readers of this book are also reminded:
Intimacy takes work and commitment.
Kids, work, and our personal interests can take us over marriage. We have to put our marriage back on the top of the priority list.
Barriers to intimacy (pornography, lust, masturbation, infidelity, unforgiveness, abuse) need to be removed.
True intimacy is the oneness and nakedness talked about in Genesis. We are working to get back there.
Three Helpful Features at the End of Each Chapter

Discussion questions – This is a good book to read with your spouse and go slowly through. Note – The book is not a seven-day devotional for couples going through this challenge. It is a regular book on marriage with discussion questions.
Before You Do – Special words to engaged couples. Brilliant!
The Yoke is Not a Joke – Special instructions to singles.  Brilliant x2!
Jeff's Last Thoughts
I hate that I have to struggle through "what I think the book is about" before I start liking the book. I'm five years into my recovery from sexual addiction. I'm sure that has something to do with it. But my wife felt the same way about the title of the book. Members of my support group did too. We thought it was going to be a shallow book with a gimmicky seven-day challenge. I'm glad we were wrong.
I think you'll have an easier time, picking up the book and using it as a tool for marital and sexual intimacy. I believe this book will point your marriage in the right direction.
Q: Did my wife and I take the Seven-Day Sexperiment Challenge?
A: None of your business.