by Tina Ray
Cyberbullying is a hot topic in the news lately—and for good reason. The recent statistics on cyberbullying are alarming:
More than half of America's teens have been harassed online, and about the same number have engaged in cyberbullying others. (iSafe, Inc.)
School cyberbullying is increasingly viewed as a key contributor to youth violence, including homicide and suicide. (CNN)
Targets of cyberbullying are 1.9 times more likely to attempt suicide. (Cyberbullying Research Center)
The majority of cyberbullying attacks go unreported to parents, teachers, or the authorities. (Adoption Articles Directory)
39% of teens admit to using social networks to victimize and harass their peers. (The Examiner.com)
Shawn Edgington, bestselling author of The Parent's Guide to Texting, Facebook, and Social Media:  Understanding the Benefits and Dangers of Parenting in a Digital World, explains that "cyberbullying occurs when a minor uses technology to deliberately and repeatedly engage in hostile behavior to harm or threaten another minor—and it is against the law." (Cyberbullying refers only to minor-to-minor communication; when adults are involved, cyber harassment is the proper term.)
Edgington's family experiences inspired her to become an expert in the field.
"I went through a very horrible and traumatic experience with my 16-year old daughter being physically threatened and stalked by text and on Facebook," she said. "I didn't know what to do to help her. I was living every parent's worst fear.
"I have since made it my mission to help parents and teens take the steps necessary to prevent any mobile networking from turning into a one-click nightmare. My daughter Nicole is the inspiration behind the Great American NO BULL Challenge."
What Is The Great American NO BULL Challenge?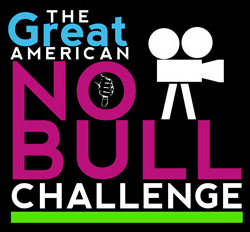 The Great American NO BULL Challenge invites millions of 6th through 12th grade students to write, direct, produce, and upload short videos sharing their strategies for dealing with cyberbullying. The videos will be judged by popular vote and prizes in the contest top $10,000. Fifteen finalists will also be fêted at the star-studded NO BULL Teen Video Awards in San Francisco in July.
Why a video challenge? Edgington explains she wanted to give teens a platform where they can educate their peers on the pain and dangers of cyberbullying.
"Teens don't want to listen to boring lectures from adults," she said. "They can show us in their words or actions how they perceive bullying and cyberbullying, how they deal with it, and what they are doing to not tolerate it anymore.  It gives them that voice that so desperately needs to be heard—and this is going to be something that all of the nation gets to see."
"My hopes are to put an end to cyberbullying," she said. "I want every middle and high school in every state to be inspired. I want communities to become involved. I never want another parent or child to ever feel like they don't have the resources or the help in a cyberbullying situation."
How to Enter
Students in grades 6-12 are challenged to make a documentary-style film between 2 and 5 minutes in length that follows the entry guidelines. NO BULL offers some tips and ideas for choosing a topic and handling video production.
To enter, participants only need to fill out a few forms before March 15, 2012, and upload videos at NoBullChallenge.org.
Viral voting will take place on entries March 15 through April 15—and entrants are encouraged to rally their social networks to help, as only the 100 most popular videos will be eligible for consideration to be one of the 15 finalists announced on May 17 (also known as National Cyber Safety Awareness Day). These 15 lucky entrants will be flown to San Francisco for the NO BULL Teen Video Awards to find out if they are among the eight winners.
The ceremony will be quite a shindig.
"We are having a fabulous VIP reception and dinner at the Fairmont, followed by limousine rides…red carpets, spot lights, media, celebrities, athletes…it really is going to be an amazing event, and it's all to reward and recognize our teens for taking a stand against cyberbullying," Edgington said.
In addition to receiving impressive prizes, the winners will see their videos included in a cyberbullying prevention assembly program DVD shared with schools nationwide.
If you miss out this year, don't fret—the Great American NO BULL Challenge will be back next year, starting January 15.
Parents, Educators, and Concerned Adults
Adults can play a large role in the success of the Great American NO BULL Challenge. Edgington nudges parents and educators to check out the NO BULL toolkit and mention the campaign to the young people.
What else can adults do about cyberbullying?
"It's easy to teach children about the potential dangers of social networking," Edgington says. "If you understand how cyberbullying occurs and the importance of prevention and intervention, you will be in a better position to help a child when they come to you for support or guidance."
"Most importantly though, communication is key," she said. "We can't avoid the digital age that our children are living in, so establish rules, invest in parental controls, monitor as much as possible, know who your children's friends are and who they are talking to, and above all, be sure you are talking to them!"