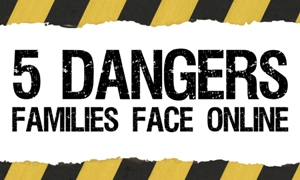 Tomorrow is Safer Internet Day. ­Safer Internet Day (SID) began in Europe but is now celebrated in more than 70 countries worldwide. This year, the theme for SID is "Discover the digital world together… safely!" The aim is to connect generations around this theme: from the very young, to parents, to grandparents.
Did you know…
More than 1 in 8 web searches are for erotic content.
79% of youth's unwanted exposures to Internet porn take place in the home.
Nearly 1 in 5 teens who receive a "sext" share it with someone else.
20% of teens say their peers are "mostly unkind" to each other on social networks.
76% of online predators are 26 or older.
40% of teens have seen pictures on social networks of their peers getting drunk, passed out, or using drugs, and half of these first saw these pictures when they were 13 or younger.