YouTube: it's the world's largest video sharing website. A remarkable 48 hours of video are uploaded to YouTube every minute—that's about 8-years of content uploaded every day. This content is initially unmonitored.
YouTube does have "Community Guidelines" which specifically state: "YouTube is not for pornography or sexually explicit content." With so many videos being posted, how do they enforce these Guidelines?
Flagging Videos
YouTube users themselves are the first line of defense against inappropriate videos. YouTube.com has enabled users to "flag" videos they deem inappropriate. When you click the "flag" icon, you have the opportunity to indicate why you think the video violates the Community Guidelines.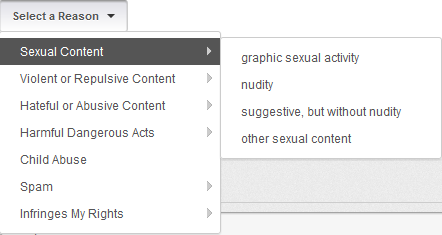 After you flag a video, YouTube staff review it to see if it fails to conform to the Guidelines. As far as sexual content goes, YouTube stresses,
Most nudity is not allowed, particularly if it is in a sexual context. Generally if a video is intended to be sexually provocative, it is less likely to be acceptable for YouTube. There are exceptions for some educational, documentary, scientific, and artistic content, but only if that is the sole purpose of the video and it is not gratuitously graphic. For example, a documentary on breast cancer would be appropriate, but posting clips out of context from the documentary might not be.
Porn on YouTube
That being said, there are still thousands of provocative videos on YouTube. Some never get flagged. Others, even when flagged, do not technically break the Community Guidelines, so they are allowed to remain on YouTube.
In 2009 the Media Research Center (MRC) examined the volume of softcore pornography on YouTube. They looked at the most popular search results for the word "porn."
Searching the word "porn" returned more than 330,000 results, many of which were sexually suggestive in their language and themes.
There were 157 videos with more than one million views each found under this search. Two-thirds of these advertised themselves as being actual pornography.
Many videos featured clips from actual porn movies, interviews with porn stars, advertisements for porn sites, and phone sex lines.
Profanity was also commonplace in the titles and comments for the videos.