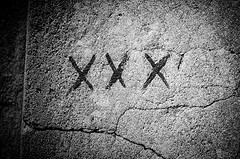 The scene opens with provocatively dressed women popping balloons using their stiletto heels. A nerdy researcher asks them why they now use the .xxx domain. "Trust me," says one woman. "It's a thing."
The researcher turns to his busty assistant to leave. "Actually," she replies, "I'm going to stay."
The ad for the new .xxx domain is unquestionably crass, but it also paints a surprising ideal. Those who want to be there can stay. If you don't, you know where you are and you can leave very easily. And on paper, it makes sense. After all, pushing porn toward one exclusive "adult" domain makes it easier to regulate and block. And there's some early success. When the .xxx domain registration opened to the public on December 6, 2011, over 55,000 domains were registered in the first 24 hours alone.
Unfortunately, in practice, porn sites aren't forced to move their content (some even refuse to do so), and many of the newly registered domains are actually corporations or major institutes protecting their trademarks. Rather than dividing cyberspace into "family-safe" and "adult" as intended, the Internet remains the same muddied minefield as before, with no hints of changing in the future.
So in the long run, who's actually reaping the benefits from this new domain?
Families
We would be remiss to claim that there is no benefit to families. One of the reasons it was created, for example, was to make it very easy for filters to block porn. Additionally, when reviewing a Covenant Eyes Accountability Report or the Detailed Browsing Logs, if you notice a visit to a .xxx domain, you should definitely have a conversation with the person whose reports you are viewing.
The .xxx domain would be much more helpful to families if there were any laws requiring porn sites to move over to it. However, switching domains would imply that porn sites would receive primarily intentional visits (people who specifically typed in .xxx). In reality, most porn sites receive traffic through unintentional visits to .com, .net, or .org sites. This is demonstrated through the practice of cybersquatting—registering domains with common misspellings. The most notorious example of this is WhiteHouse.com, originally a government satire site which eventually offered porn. (At the time of this writing, the URL leads nowhere.)
Between this audience-building technique and the exorbitantly high cost of .xxx domain registration (approximately $100, compared to $10 for a .com domain), it's no wonder pornographers aren't flocking en masse to transfer their domains. Unfortunately, this means that the purported family protection has not yet manifested itself.
Domain Registrars
Right now, the clearest winners are those who are making a direct, immediate profit; namely, ICM Registry (which proposed the .xxx domain and won a 10-year contract from ICANN to manage its registrants) and domain registrars such as GoDaddy and Network Solutions. Oddly enough, they're making a tidy profit not from pornographers but from businesses and schools looking to protect their trademarks. The University of Michigan has purchased a number of domains such as Wolverines.xxx and Michigan.xxx, spending upwards of $2,000 for 10 years of protection, and the University of Kansas spent over $3000 to protect similar domains of their own. And that's only trademarked names. Colleges often also purchased non-trademarked domains after sales opened to the public at the much higher annual price. (To be fair to ICM Registry, they did waive the registration fee for certain non-profit organizations, including the Red Cross.)
Not everyone is buying into this. Some entities, such as Michigan State University, simply decided to pass. Spokesman Kent Cassella said, "We don't think there's significant potential for confusion" if someone stumbles across a porn site instead of a university one. Other companies compare the new domain to blackmail. Manwin Licensing International, owner of Playboy and a number of other pornographic properties, actually sued ICANN for creating a monopoly. They claim, as PCMag.com reports, "the new domain space forces companies to buy .XXX names to prevent acquisitions by domain squatters, thus incurring significant new costs with no measurable benefit to their existing businesses."
The Porn Industry
One of the long-term beneficiaries is, oddly enough, the porn industry. For one thing, the advertising strategy not only legitimizes porn, it gives it a certain gloss. Domain registrars such as GoDaddy or Network Solutions encourage, "Let's be adult about [porn]." ICM Registry calls it "The World's Coolest Domain." They have also launched a series of TV advertisements with its own .xxx domain, such as the one listed at the beginning of this story.
"It's pathetic that when my kids are watching family friendly shows on the Discovery, SYFY, History and other channels, they are seeing ads for a web domain that is aimed at porn," said Sam Black, an Internet Safety Consultant for Covenant Eyes. "My wife was aghast that a porn domain now gets prime time advertising."
Even before ICANN moved forward with the new domain, organizations such as Morality in Media pointed out that it would actually serve to legitimize pornography. Since obscenity laws are in part predicated on "contemporary community standards," it may in fact become more difficult to bring hardcore pornography to court. The .xxx domain may become its own sort of community with much looser standards than even our sexualized culture holds.
To address this, Patrick Trueman, president of Morality in Media, is urging U.S. Attorney General Eric Holder to investigate ICM Registry. He argues, "Title 18 United States Code Sections 1462 and 1465 prohibit distribution of hard-core, obscene Internet pornography. Yet, isn't that the purpose of the .XXX Domain?" In short, the .XXX domain may be outright illegal.
Get Educated
The .XXX domain has always been and likely will always be a highly contentious issue, and one with long-lasting implications. That's why Morality in Media and their affiliated sites, Pornography Harms and War on Illegal Pornography, offer education on the legal ramifications and ways to get involved in the anti-pornography movement.
Additionally, Covenant Eyes offers a few articles specifically dealing with the .XXX domain:
Sometimes it's important to return to the basics. Download our free e-book Your Brain on Porn to learn the five ways porn actually changes the way you think and three ways to renew your mind.
Photo Credit: timparkinson on flickr