11.5% of students are "hyper-networkers"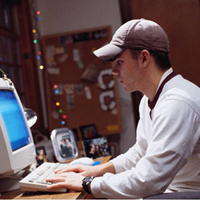 This article is published in Table Talk, a new series on the Covenant Eyes blog. These news highlights are designed as conversation starters on Internet safety for you and your children. Read more Table Talk posts.
There are many untold benefits to social networking websites like Facebook. But what are the dangers a teen faces if they become too engrossed?
Last month Case Western Reserve School of Medicine released a study entitled, "Hyper-texting and hyper-networking: A new health risk category for teens?" Overall, 20 schools participated in the study, and 4,257 questionnaires were received from students. This study defined "hyper-networking" as spending more than three hours per school day on online social networks. Using this definition, researchers concluded that 11.5% of students are hyper-networkers.
Furthermore, hyper-networkers are…
56% more likely to be smokers
60% more likely to report four or more sexual partners
79% more likely to have tried alcohol
69% more likely to be binge drinkers
84% more likely to have used illicit drugs
92% more likely to have been depressed
94% more likely to have been in a physical fight
110% more likely to have been a victim of cyberbullying
120% more like to have been highly stressed
146% more likely to have attempted suicide
Of course, this study does not say hyper-networking causes these behaviors, only that when a student is a hyper-networker, they are more likely than others to manifest these behaviors. How much a student uses Facebook could be an indication of engagement in other unhealthy behaviors.
Scott Frank, MD, MS, lead researcher on the study, said, when left unchecked, these widely popular methods of staying connected online "can have dangerous health effects on teenagers."
Discussion Questions:
1. How many hours do you spend on social networks? How about your friends: would you consider any of them hyper-networkers?
2. In general, when you see someone online who always seems to be on, are they more likely to be involved in risky kinds of behaviors? Why do you think that is?