Honored for "restoring marriages and restoring lives" by leading a "revolutionary company," Covenant Eyes founder Ron DeHaas received a national award for his work in Internet safety. Watch the short video below from the banquet.
Covenant Eyes representatives were honored last Thursday to be invited to Cincinnati, Ohio, for the annual pureHOPE banquet.
What is "The Jerry and Patty Kirk Award"?
"Every year," says pureHOPE President Rick Schatz, "pureHOPE recognizes an individual who has made special contributions to the cause of protecting children and families from the harms of pornography and sexualized culture." Until this year, this award was called The Family Protection Award. In past years it was awarded to individuals like Dr. Paul Rader (former General of the Salvation Army), Monique Nelson (former President of Enough is Enough), Bruce Taylor (former prosecutor for the U.S. Department of Justice), and several others.
Who are Jerry and Patty Kirk?
Dr. Jerry Kirk founded pureHOPE in 1983, formerly called the National Coalition for the Protection of Children and Families. Kirk currently works with religious leaders representing more than 100 million Americans as co-chairman of the Religious Alliance Against Pornography (RAAP). Kirk was also instrumental in the founding of the Child Exploitation and Obscenity Section within the Justice Department in 1986.
Jerry Kirk lives with his wife Patty in Cincinnati, Ohio. They are the proud parents of five children and grandparents of 22 grandchildren.
Photos from the Banquet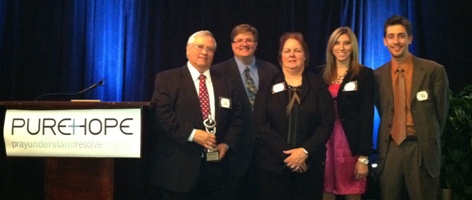 Ron DeHaas is joined by Covenant Eyes employees Bill Spencer (V.P. of Administration), Bernie Leslie (Internet Safety Consultant), Nicole Jameson (Product Owner), and Ben McBride (Internet Safety Consultant).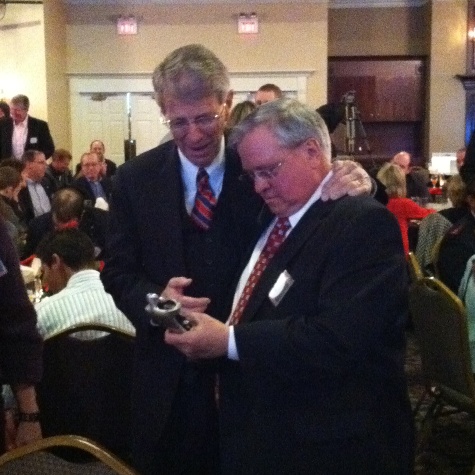 Ron DeHaas and Dr. Jerry Kirk discuss the new award.