"Justice Week" on Covenant Eyes Radio – Episode 112
[powerpress]
All this week we are exploring the issue of sex trafficking, hearing the stories of ordinary people who are doing extraordinary things to combat this evil around the world.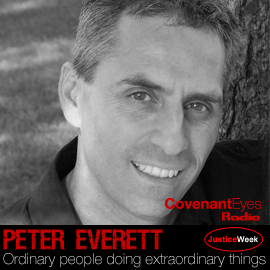 Today we are interviewing Peter Everett. Peter and his wife Barbie work with Destiny Rescue, an Australian-based anti-trafficking organization that actively seeks out children who are sexually enslaved throughout Africa and Asia, rescuing them from their exploiters, and rehabilitating them. Peter and Barbie have started a branch of Destiny Rescue in the United States, speaking on behalf of the girls enslaved overseas, bringing the goods created by survivors to the U.S. market.
In this interview Peter talks about his first experiences with enslaved children in Thailand, how he came to start a branch of Destiny Rescue in the U.S., and his continued experiences with the undercover rescue teams in red light districts throughout the world.
Today's interview is conducted by Anny Lee, an intern at pureHOPE.
Music for today's podcast is "It's Slavery" by Ten Shekel Shirt.
Listen to more Covenant Eyes Radio on iTunes.
. . . .
Learn more about this topic:
Get involved with Destiny Rescue in many ways: sponsor a child, become a local fundraising volunteer or a promotional volunteer, host a jewelry party, or go on a mission trip.