I teach girls all over the nation at a purity conference how to be modest and stylish. A lot of people think it can't be done, but it can. I talk about not showing cleavage and wearing tank tops underneath almost every shirt. I talk about not wearing short shorts, making sure they are a decent length. Then of course I teach them on the current styles for the season and how to pull them off modestly. I have such a great time teaching girls on this subject.
One part of my teaching is on swimsuits.
For all of my life I always wore a bikini. It's what everyone does. From the time I was a baby and into my early 20s. I seriously never thought anything of it. Everyone in our culture wears one and it's what they sell in all of the stores. Personally, I never wore one with the attitude "Hey boys, look at my body."  It was always because I wanted a good tan.
Last winter I was listening to Pandora Internet Radio. If you don't use them, ads always pop up on the side of the player when you're listening. I was listening to some worship music, praying, and studying. An underwear ad from a popular clothing line appeared: it was a picture of a girl in her bra and undies. I started getting really upset. I said, "How come I am just here listening to worship music and this ad comes on with this girl barely dressed?" I was so mad at marketing. This can just pop up for everyone to see.
Then the Holy Spirit spoke to my heart with so much clarity. He said, "Alyssa, what are you doing when you go to the pool in the summer wearing a bikini?"
It was like a loving dagger right to my heart. I thought about it and I was like "Wow, thank you Holy Spirit, you are so right!" There is truly no difference.
At first I was like, oh man, now my stomach isn't going to be tan…but my husband thinks it's no big deal whether or not my stomach is tan.
At The Pink Lid, when I teach on dressing guidelines, I have a PowerPoint slide with two pictures on it. One is a pic of a girl in a bikini, and the other is a pic of a girl in bra and underwear. Then I ask, "What's the difference between the two pictures?" All the girls just sit there and I can see that their brains are working overtime on this. And they all come to the conclusion that the only difference is the name and maybe material. But as far as coverage goes, there is no difference.
I would never take my clothes off in front of a crowd of people and just be in my bra and underwear, so why do we think it is okay to wear a bikini in front of a crowd? It's totally a culture thing. Plus girls in the summer are posting profile pictures of themselves on Facebook in bikinis. These girls would never post a picture of themselves in just their underwear on Facebook. So why do all these women think it's okay to post a picture of themselves in their bikinis?
I am here to say that it is soft porn. Christians for some reason feel it's okay to post that on Facebook when they are frankly not even aware what they are saying through that picture. And it's not just teenagers and young adults…it's parents too.
So when I got straight-up convicted, I told my husband about what the Lord talked to me about. And it blessed him so much that I wanted to wear a swimsuit that covered me. My body is his and not for everyone else to see. It's for his eyes only. And that should be your focus too ladies, married or not, your body is for your husband.
Men are very visual and you are going to attract with what you are putting out there. If you want a man to respect you and your body then be respectful with the way you dress. You want a man to honor you and not use/abuse you. Dress for a respectable loving man, not the opposite.
Parents, make sure to lead by example with your swimsuit. Just because you are older is not an excuse to show more skin. I always say: less is more when baring skin. Protect your daughters as much as you can, and don't allow them to wear less than is acceptable. I say this all with a heart of love, I want to see a generation of young women living in purity and finding their true beauty which is in the inside.
You are worth the wait.
---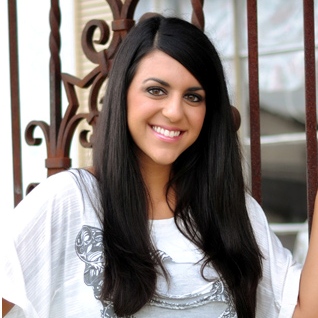 Alyssa Shull and her husband Matt are the founders of Shull Ministries International, an organization dedicated to reaching out to the younger generation through media, youth services, and evangelistic outreaches. Alyssa and Matt are the hosts of Skunks TV, a fast-paced 30-minute show designed to entertain and educate youth. Alyssa graduated in 2008 with a degree in Multi-Media Productions from Oral Roberts University, and now she travels full-time with Matt speaking in churches in America, Latin America, and India. Alyssa is also the founder of The Pink Lid, a weekend event for young ladies to learn about purity and modesty.