Covenant Eyes Radio – Episode 105
[powerpress]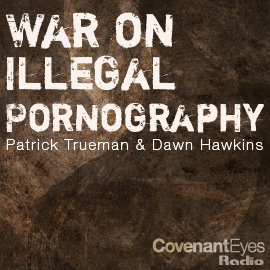 Many people do not know the laws surrounding the distribution of pornography. Most know child pornography is illegal, but is all adult pornography legal under U.S. federal and state laws?
Today we are talking with Patrick Trueman and Dawn Hawkins of Morality in Media. They direct the War on Illegal Pornography, a national coalition effort that educates the American public on the harms associated with pornography and pushes the federal government to enforce existing obscenity laws.
As former Chief of the Child Exploitation and Obscenity Section of the U.S. Department of Justice, Patrick Trueman is an expert on pornography related legislation. Today he talks with us about the laws that are currently on the books and the court cases that have bearing on how these laws have been applied.
Patrick and Dawn also talk about some of their recent initiatives, including their call to NBC to halt the production and airing of their new fall drama, The Playboy Club.
Music for today's podcast is "It's Slavery" by Ten Shekel Shirt.
Listen to more Covenant Eyes Radio on iTunes.