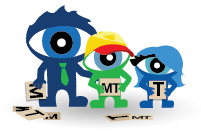 "Why do I see all these 'Teen' rated websites on my partner's Accountability Report? I don't care if he goes to Facebook." We get these questions from time to time, which is why we've made it possible for your partners to customize the accountability reports they receive.
People who receive Accountability Reports (their own or someone else's), cannot only select how often they receive the report, but also select which ratings they see in the report. These are called Report Sensitivity Levels.
For instance, you can choose to see only Highly Mature (HM) ratings if you are concerned about your friend going to sexually explicit sites.
If you want to see when your teenager visits sites like Facebook or YouTube, you might want to set the reports to the Teen (T) level.
People who use the Covenant Eyes Filter can adjust the Filter settings according to these ratings as well. Filter Guardians can choose anywhere from our Restricted (R) setting (which blocks every site except what is on the "allow" list) to our Mature (M) setting (which allows all sites rated lower than HM).
Tell your partner to change their settings!
Talk to the person who holds you accountable and discuss which settings are best for you.
Tell your partner to visit 'My Account' at the top of this page to adjust the settings.
If you receive Accountability Reports, don't forget to update their settings for yourself.