Interview with Donna Rice Hughes
Covenant Eyes Radio – Episode 101
[powerpress]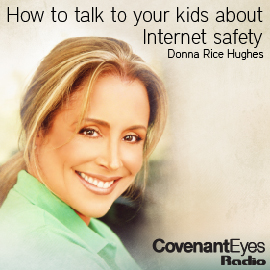 With all the research out there about Internet safety for kids, how can parents get their hands on the best information?
Today we are speaking with one of the pioneers of Internet safety, Donna Rice Hughes, president and CEO of Enough is Enough. She talks with us about why Internet filters, though necessary, are not enough to protect kids.
Enough is Enough provides unique resources that equip parents, youth workers, and educators to be vigilant in protecting kids online . Donna recommends you check out their…
Music for today's podcast is "The Fire and the Knife" by The Difficulty
Listen to more Covenant Eyes Radio on iTunes.
. . . .
Donna Rice Hughes is an internationally recognized Internet safety expert. She has testified a number of times before U.S. Congress on Internet dangers and was appointed by Senator Trent Lott to serve on the Child Online Protection Act Commission. Currently, Donna serves on a number of Internet safety task forces around the country. She has given more than 3,500 media interviews, appearing on such shows and networks as The Today Show, Oprah, Fox News, CNN, Dateline, and 20/20. Her editorials have appeared in The Wall Street Journal, The New York Times, The Washington Post, USA Today, The Los Angeles Times, People Magazine, and many other periodicals.