Covenant Eyes Radio – Episode 99
[powerpress]
Please note: The subject matter on today's podcast is not suitable for some audiences due to graphic descriptions of sexuality and violence. Listener discretion is advised.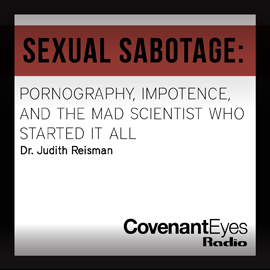 Since the 1950s, sexualized media and pornography have slowly entered the mainstream of American culture. While consuming pornography has been portrayed in popular media as sexually healthy, many doctors and researchers are unconvinced.
Today, we speak with Dr. Judith Reisman, former president of The Institute for Media Education. Dr. Reisman has been a consultant to four U.S. Department of Justice administrations, the Department of Education, as well as the Department of Health and Human Services.
She speaks with us about the medical evidence for how pornography actually causes impotence, not sexual liberation. She also talks about the history of the massive "sexual industrial complex" in America, detailing some of the dark and disturbing history behind the pioneers of sexology research, namely Alfred Kinsey.
Music for today's podcast is "It's Slavery" by Ten Shekel Shirt.
Listen to more Covenant Eyes Radio on iTunes.
. . . .
Learn More: