Covenant Eyes Radio – Episode 96
[powerpress]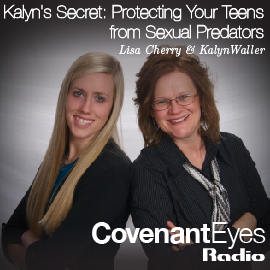 When Kalyn was 15 years old, her parents received an $800 cell phone bill in the mail. After some investigation, they discovered their daughter's secret: she was emotionally involved with a man who was 31 years older than her.
Today Kalyn and her mother, Lisa, talk with us about how she was groomed by this man over a period of two years. They also talk about the warning signs of sexual predation parents need to be looking for in their own teens.
Lisa and Kalyn are the authors of Kalyn's Secret: Every Parent's Battle to Save Their Children.
Music for today's podcast is "We Are Not" by The Difficulty.
Listen to more Covenant Eyes Radio on iTunes.
. . . .
More on this topic: