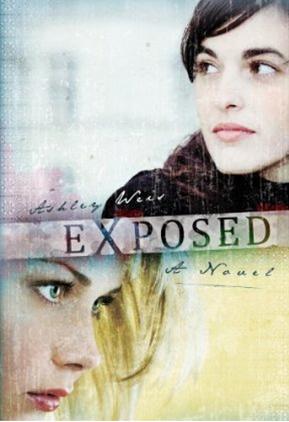 My friend Ashley Weis is publishing her first novel, Exposed, in September. It is the story of a marriage counselor who discovers her husband's pornography addiction, and a teen who falls into the self-destructive porn industry.
For anyone woman who has experienced the harm that pornography brings, you'll be sure to identify with this story.
Ashley is giving away FREE copies of her book. Just make a comment below this post and your name will be entered in a drawing.
Ashley took some time to answer a few questions I had about the novel:
One of your characters, Allyson, is a marriage counselor who discovers her husband's porn addiction. Tell me more about Allyson. How does she react to her discovery?
Not like a marriage counselor would. She loves love, so she becomes a counselor to help others stay in love. Her world is flawless and she is a perfectionist who likes to keep everything in order. When her world is shattered by her discovery of Jessie's porn addiction she is thrown into a world of past wounds and major insecurities. She wants to make sense of it, fix it like her counseling tendencies urge her to, but she can't and it breaks her to pieces.
Another character is Taylor, a girl who is roped into the porn industry. Why did you choose to parallel Taylor and Allyson's stories into one novel?
As I healed after discovering my husband's porn struggle so many resources said, "It's not about you." I never fully grasped what those words mean (and they mean much more than one thing), but eventually I came across stories of porn stars who came out of porn and told the world how devastating the industry is. The more I read about their lives, the more I realized the truth of, "It's not about you." I knew I needed to parallel Taylor's story to Ally's in order to show the full truth of the harm porn causes. I wanted people to know that there's so much more to porn than a husband and wife's struggles. That truth really played a crucial role in my healing.
What prompted you to write this?
Love. I wanted to show that love overcomes all things. It was a tough novel for me to write because I had to explore my own pain, but it also helped me along the healing process to see Taylor's story unfold as well. I actually have more in common with Taylor than Ally, simply because of her desire for earthly recognition and her quest for her worth and value as a person. Thankfully, God has taught me that those things don't matter as much as I thought, but I identify a lot with the heart of Taylor (obviously not the lifestyle). Really, I wrote Exposed because it just started coming out one day. This was the end result of my heart on paper. So this book is dear to me. It truly is my heart.
Tell me more about Allyson's blog.
I love Ally's blog. When people buy Exposed they'll find an email address in the back of the book. They can email us their receipt number and receive the blog address and a username and password to enter the site. Ally's blog is a continuation of Exposed, showing what Ally and Jessie endure after the last page of Exposed. It's all written from her perspective, as though you can interact and talk with her. She writes about her healing, his recovery, steps they took, the hard times, and the hope they now have. I love this blog because it doesn't leave you with the last page of the book, it gives you a chance to really dig into her heart and see how their marriage eventually found true hope and love.
Pre-order Exposed today! Use the code 'covenant' before September 1 and get a 50% discount. Or leave a comment below to be included in her drawing for a free copy.