A friend of mine decided that it was time she learned what the discipline of fasting was all about. She purposed to start her fast on a certain day as she prayed through a number of pressing issues in her life. A day or two after starting the fast I found her in one of the college cafeterias eating. I asked her why she was eating, and she informed me she tried fasting but got really hungry and assumed she must be doing something wrong. So she ate.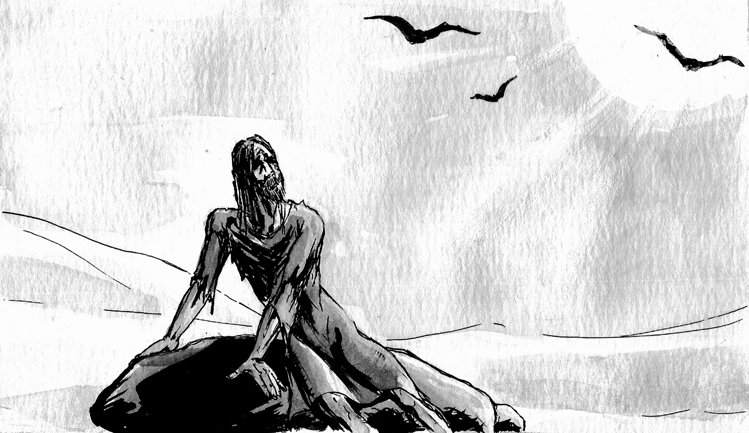 We had a laugh about it, but that conversation made me think about the misconceptions about fasting in the church. Some, like my friend, hope fasting will be a catalyst for some sort of mystical, out-of-body experience, separated from a need for food. Others think fasting is a legalistic practice or a form of unhelpful asceticism. Others think fasting is good but reserved for those in "professional" ministry situations. Many others simply don't know what they think about fasting.
Jesus fasted during His forty days in the wilderness. He later taught on the subject of fasting. These facts should move the serious disciple of Jesus to learn more about this important discipline.
The Growing Hunger
As the days and weeks pass, Jesus wanders through the stony terrain, spending night after night under the elements. This desert offers no oasis for refreshment. Occasionally He swallows small amounts of water, but He eats nothing. As the days move along, He feels the pangs of hunger come and go, and then they come again with a vengeance. There are times He finds it hard to stand, let alone walk. After about a month Jesus is aware that He is  losing strength in His muscles as His body begins to eat away at itself. He is beginning to starve.
While growing up Jesus had heard the stories of Moses and Elijah, famous prophets who fasted for forty long days. Moses ascends Mt. Sinai and spends weeks soaking in the presence of God. He watches as God chisels His law into the tablets of stone. Moses feeds on the glory of God, miraculously staying alive, eating or drinking nothing. He later comes down the mountain, not crippled with hunger pangs, but with his face shining, radiating God's brightness. Elijah is also fed supernaturally by God. Angels come down from heaven and bring cakes baked on hot stones and a jar of refreshing water. This food and drink somehow sustain Elijah for forty days as he journeys to Mt. Sinai to have a powerful encounter with the God of Israel.
Jesus' forty days of lonely hunger are not so glorious. No supernatural glory that we know of sustains Him in the wilderness. No angels bring Him bread. This fast is a hard one. But after the time of testing is over, Jesus walks back into Galilee filled with the Spirit's power.
Fasting in the Bible
Fasting has a unique way of testing our hearts: when we are free from the most simple and basic crutch of food, we find out quickly what really controls us.
It is interesting that the only traditionally recurring fast commanded in the Bible is during the Day of Atonement (Leviticus 16:29,31). God never obligates a regular fast for His people in any other instance, and yet we find many situations throughout the Scriptures where the people of God are fasting. This shows us that, under normal circumstances, fasting should not flow from obligation, but from a personal burden.
Jesus never commands fasting: He assumes it. In Matthew 6 Jesus teaches us what to do, not if we fast, but when we fast (v.16). In Matthew 9, Jesus tells John the Baptist's disciples that a day is  coming when His disciples "will fast" (v.15). It is Jesus' assumption that the church will engage in the practice of fasting, just as many before Him did.
All throughout the Old Testament, we see the burdens that move the people of God to fast:
Moved by the suffering of his enemies, David fasts and prays for their ailments to be cured, feeling the burden return to heart again and again (Psalm 35:11-14).
David also fasts when he mourns the death of Saul (2 Samuel 1:11-12).
King Jehoshaphat calls for a fast throughout all of Judah so they might all seek the Lord for protection from the Edomite army (2 Chronicles 20:1-4).
The prophet Joel calls for a season of national fasting and repentance (Joel 2:12-16).
The king of Nineveh proclaims a city-wide fast, praying to God to relent from the judgment He has promised (Jonah 3:4-10).
The prophet Daniel, after reading the scroll of Jeremiah, is  so burdened by the guilt of his people that he fasts and prays for God's mercy (Daniel 9:1-19).
Ezra calls for a fast among the returning exiles as they pray for safe passage back to the Promised Land (Ezra 8:21-23).
Queen Esther calls for a three-day fast for the Jews in Susa so they can intercede for her as she approaches the king (Esther 4:15-17).
The New Testament also speaks of men who were burdened to fast:
The prophetess Anna devotes her whole life to worshiping the Lord with fasting and prayer, and she is one of the few to whom God reveals the truth: that Jesus is the redeemer of Jerusalem (Luke 2:36-28).
Paul eats and drinks nothing for three days after Jesus appears to him on the Damascus road (Acts 9:9).
The prophets and teachers in Antioch worship the Lord with fasting and prayer, and in that time the Holy Spirit moves them to send Paul and Barnabas out on their first missionary journey (Acts 13:1-3).
In each city, Paul prays and fasts as he commissions elders to lead God's flock (Acts 14:23).
We see from these and other examples, fasting is always accompanied by prayer: seeking the Lord's face and His mercy. Fasting is typically accompanied by a time of felt need. For some the need was perfunctory or immediate—a burden that prompted a timely season of intense prayer and fasting. For others the need was continuous and ongoing, leading to a lifestyle and rhythm of fasting. For some the felt need was personal—a longing to be free from sin's grip, an intense desire to know and experience God, or a need for wisdom. For others the need was communal or national—protection from a militant group, healing from a deadly plague, or the aversion of national judgment.
Christians are called to follow the example of these holy men and women, and ultimately the example of Jesus, experiencing for ourselves the blessing of fasting.
A Hunger for God
"Our seasons of fasting and prayer at the Tabernacle have been high days indeed; never has Heaven's gate stood wider; never have our hearts been nearer the central Glory." (Charles Spurgeon)
One statement from Jesus about fasting continues to grip me. He is questioned by the disciples of John the Baptist: "Why do we and the Pharisees fast, but your disciples do not fast?" (Matthew 9:14-15). This is a good question. Jesus' movement wasn't marked with the same character as that of the Pharisees or John. Some of the Pharisees are known to fast twice a week. The disciples of John are likely to share in the rustic, ascetic spirit of their teacher, a man who comes "neither eating nor drinking" (11:18). One can't help being drawn to these groups feeling a sense of holy sobriety and solemn prayer. But Jesus' movement has a different flavor.
Jesus replies, "Can the wedding guests mourn as long as the bridegroom is with them? The days will come when the bridegroom is taken away from them, and then they will fast." Weddings are times of great communal celebration, nothing like the spirit of a fast. Here He likens His presence to that of a groom among his wedding guests. This is likely the atmosphere surrounding Jesus. We find Him often enjoying rich table-fellowship with His disciples and notorious sinners. He is even accused of being a glutton and a drunkard because of His lifestyle (11:19). There is an unmistakable joy about being in Jesus' company.
The Bridegroom was taken from us, so therefore, today we are called to fast. We fast with a longing to be with Jesus again, a longing to be together again with the Bridegroom of the church. To be sure, the Christian life is full of joy, a joy that comes because the Spirit of Christ is in us and among us, but it is a joy that is merely a foretaste of the eternal joy at the wedding supper of the Lamb. John Piper explains, "Jesus connects Christian fasting with our longing for the return of the Bridegroom. Therefore, one of the most important meanings of Christian fasting is to express the hunger of our hearts for the coming of our King" (Hunger for God, p.83).
Let us make an effort to regularly meet in small Christian communities that know a rhythm of fasting and feasting. What a blessing it is to know this rhythm, to gather as the early church did for seasons of intense prayer, seeking the Lord's face, to gather also for rich times of table-fellowship. We are meant for that kind of community, a community where our fasting and feasting is marked with a sense of anticipation and longing, a desire to see the kingdom of God come, a desire to sit at the table in the great Messianic banquet.
In a day when it is far too easy to pacify and medicate the little empty places in our soul with fast food, Jesus calls us to know a deeper hunger, a deeper satisfaction.
Thoughts for Personal or Group Reflection:
1. Experiment – As a group experiment, choose a day or two to fast. Keep a journal during that time. In the journal write down: (1) the purpose of your fast, what you are praying for and about; (2) the duration of your fast; (3) the limitations of your fast, i.e. What you will and will not ingest; (4) your experiences during the fast. Come together and share your experiences. Break your fast together at a real, sit-down meal of table-fellowship and a time of worship.
2. Learn – Understand how the body reacts to fasting. Dr. Bill Bright has written some excellent thoughts about prayer and fasting, including thoughts on nutrition, starting and stopping a fast, and the physical effects of fasting.
3. Read – Pastor John Piper has written a wonderful book about the subject of fasting, Hunger for God, and has made it available for free online. Take time to read this book and study it in a group.
4. Bible Study – Several Bible passages talk extensively about the subject of fasting. On your own, or with some friends, take time to study the following passages in depth: