by Veronica Benton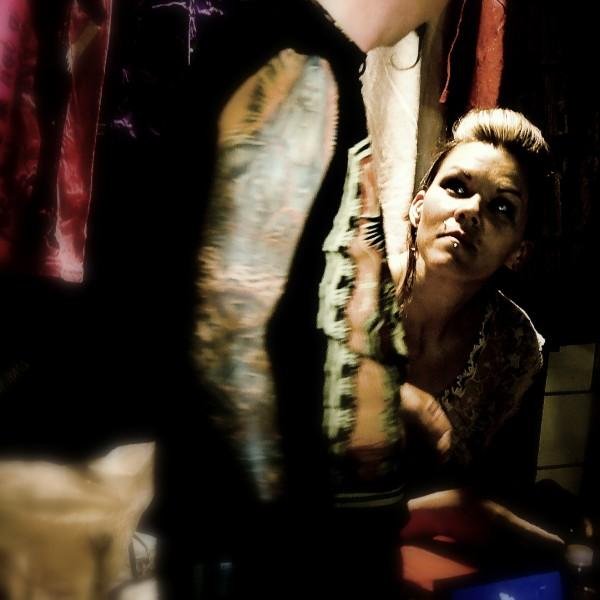 I am often asked, "When will I trust my husband again?" This is such a hard question to answer, especially for a woman who just found out her husband has been hiding a pornography addiction.
Trying to find herself in the shock of the moment and not seeing a light at then end of the tunnel is such a scary place.
I knew my husband was having an "affair with our computer" for a long time: the first year and a half of our marriage, to be exact. The problem was that I thought it was my fault. I thought I was not fulfilling my husband, so he would have to turn to the Internet. It was so hard to muster up the courage to call him out, but I knew I had to do something. I had fallen into an eating disorder, partly to have control of something in my life and because I felt that if I could look like the girls online, he would pick me over them. On top of that, we were leading worship at our church, wearing perfect masks, telling no one of our struggles. I had exhausted my efforts and had enough. He snuck into bed around 4am one night and I said, "I know what you're doing."
Let the recovery begin.
Thankfully, T wanted to change and was truly sorry. I am heartbroken on the road when I talk to women who tell me their husband says, "The only problem with me looking at porn is your jealousy problem." Ouch.
One of the biggest factors in rebuilding trust in our marriage is accountability. We signed up with accountability software and the first two weeks in, I got his report in my email and realized it works. I had to call him out again, and told him this was his Get-Out-of-Jail-Free card. If it happened again, the Internet would be gone for good. Every time I get a "clean" report, it helps to build trust.
We always tell people that addiction is addiction, everyone just has their drug of choice. Porn happened to be T's hardest habit to break. Now, had he secretly been addicted to cocaine, yes, I'm sure I'd have been devastated, but secret sexual sin personally affects the spouse in such a deep way. I know his addiction wasn't my fault. It took a long time to learn that.
If you're reading this and think your spouse's addiction is your fault, please understand it is not. There is nothing you could have done or said differently to prevent the addiction. Trust me, I tried. I tried for a year and a half. Through marriage we become one, especially in our most intimate times. So in my mind, he was turning away from me, unfulfilled, which left me so offended and so disgusted. Once I truly grasped that his addiction wasn't my fault, I was really able to take "me" out of the equation and we were able to focus on him and his recovery.
Through this entire process I learned a lot about my own faith and our marriage. January 19 will be our 9 year wedding anniversary. When we got married I gave my heart to my husband. He wasn't very gentle with it, and so I took it back. Since that time, T and I have both truly given our hearts to Jesus. Truly. As long as Jesus is holding my heart, no one can break it. So really, part of rebuilding trust was trusting Jesus with our hearts.
I think I would be lying if I said I trusted my husband 100%. We as humans are imperfect beings; unfortunately, we let each other down. T and I have chosen to grow together and change together. We said, "Till death do we part," and meant it. I do, however, trust Jesus with my heart, and as long as T and I are fully focused on Him we will always be pointing in the same direction, together. We have taken this addiction and turned it into our ministry. We are daily fighting the battle and daily choosing integrity. If we were in a solitary place, he and I would both be in a recovery group. There is so much healing in knowing you are not alone in your struggle. We are reminded of this daily through emails, texts and talking to people after our shows. It is so amazing to have a couple come up and say, "Thank you, that is our story and it needs to be heard."
If you are struggling with a hidden addiction, please be honest about it. Get it off your chest by telling someone. Choose integrity daily. Who we are the good, the bad, and the ugly make up our ministry here on earth. Focus on what you are passionate about and use it for Gods purpose. Be the change you want to see, and most of all . . . just love.
. . . .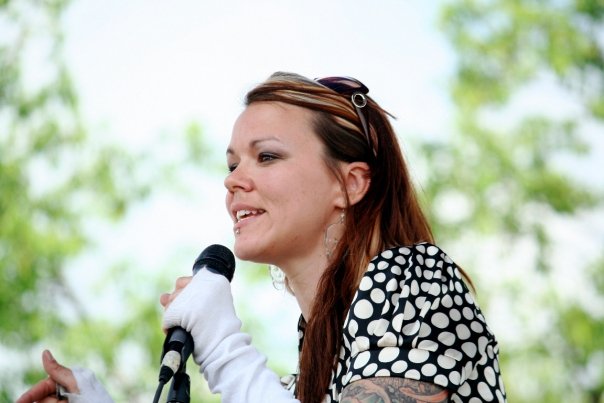 This is a guest post by Veronica Benton. In 2002, Veronica's husband Tyler (TD) confessed his ongoing struggle with pornography. Since 2006, T and Veronica have been touring the country with their band, White Collar Sideshow, a group dedicated to helping people break free pornography addiction.