by Michael Leahy
This week marks the beginning of Porn Awareness Week. These "Awareness Weeks" have become all too common these days as far as I'm concerned. Which unfortunately means a lot of important issues get buried underneath the clutter of all the causes and concerns out there screaming for our attention. Paradoxically, pornography seems to be the last thing that needs more attention. After all, over 40 million people are giving their favorite porn sites their undivided attention every day. Add to that how pervasive pornography is in our culture and mainstream media—the movies, music, TV shows and commercials, text messages, chat room conversations, video game characters, even casual conversations—and anyone can see that porn is definitely the norm these days.
But what I'm finding an increasing number of people aren't aware of is how to resist the avalanche of temptations that many of us face every day. That is, for those of us who are trying to live a life marked by sexual integrity. And when it comes to establishing and maintaining healthy habits of personal purity and sexual integrity, I've found that the issue of accountability—and especially online accountability—is one of the most important and least understood factors that will determine a person's success or failure in developing sexual integrity.
. . . .
BraveHearts 30 Day Challenge
That said, I've decided to fulfill my obligation to do something constructive during this national porn awareness week by directing the spotlight on the issue of accountability. So for all of you who are striving to do the right thing by your spouses and SO's and families and God and whoever else you've promised that you'd lay down the porn habit, I invite you to journey along with me for the next 30 days (you didn't really think I was just going to limit this to a week, did you?) as we explore the facts and myths associated with this challenging idea and concept of being held accountable and thus accepting responsibility for all of our actions, even those we undertake in the privacy of our online world.
I'm calling this the BraveHearts 30 Day Challenge. And it's simply this—I challenge anyone who's serious about wanting to quit the porn habit to sign up and use Covenant Eyes for the next 30 days while myself and others with first-hand experience help you by sharing with you what we've learned over the years about how to REALLY be accountable. In fact, to help make it easy on you, the folks at Covenant Eyes have agreed to let you use their Internet accountability software for free during those first 30 days.
. . . .
Why Covenant Eyes?
Why am I bringing Covenant Eyes into this? For one, it's a simple and powerful Internet accountability tool that works. I started using CE at the behest of my Board of Directors over 6 years ago. They knew that as a part of my sexual addiction, Internet porn had been a big area of struggle for me and they wanted to have some way of holding me accountable for where I go and what I do on the web. After all, these folks were putting their names and reputations on the line by getting involved in the strategic management and oversight of my non-profit organization, and the last thing they wanted to see was me relapsing back into my old addictive ways. So CE was not an option for me, it was a requirement. And it's saved my butt many times over the years as temptations have come my way. That's why I still use it to this day, 6 years of uninterrupted protection from myself.
In fact, I believe in the power of this product so strongly that I now serve as their national spokesperson. And trust me, for a guy who spent 20 years working in the software and technology industry, that didn't come about without my doing a thorough due diligence on my part. But the bottom line is this—used properly, I know CE works and I believe that Covenant Eyes is a "must have" for anyone who is serious about becoming a man or woman of sexual integrity in today's hypersexual culture, regardless of your past failings in this area. And more importantly, I want to put my money where my mouth is by getting "in the game" with you and coaching you through the common misconceptions, frequent failings, and typical pitfalls that you may encounter on this journey. Together, I'm confident that we can do this thing.
So there it is—the BraveHearts 30 Day Challenge—will you be accountable for 30 days for where you go and what you do on the Internet? If your answer is "yes", then let's get started. If you aren't already using Covenant eyes, then click here to go to their site and download their software. You'll have 30 days to use it for free based on our promo code that's embedded in the link above. The software that gets loaded on your system is very lightweight and won't slow your system down at all or block your access to any website you want to access. Installation directions are self explanatory, and their help desk support is there for you if you run into any problems or have any questions along the way.
. . . .
Who should be my accountability partner?
Getting up and running on the software is the easy part. But deciding WHO to choose as your accountability partner is the first real challenge you'll run into, and it's a question you'll need to answer as you complete your software installation—who should I choose as my accountability partner (or partners—more on that in a later blog post). It's even something to consider for those of you taking the BraveHearts Challenge who are existing Covenant Eyes users—did I choose the right person in the first place, are they really "covering my back" or invested in my well-being, etc. In fact, it's such an important issue that it'll be the subject of my next blog in this 30 Day Challenge series.
So, if you're not really sure who you should choose as your accountability partner, go ahead and put yourself for now (by entering your own email address) and check out my advice on the next blog post titled "Choosing an accountability partner." And congratulations on accepting the challenge and making what very well may be one of the wisest decisions of your life.
. . . .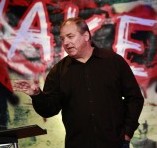 Michael Leahy is the author of Porn Nation, Porn University, and Porn@Work. He is also the founder and Executive Director of BraveHearts, an international social justice organization that uses education and awareness to help reduce consumer demand for the "products" of global sexual exploitation, including pornography, prostitution, and sex trafficking.