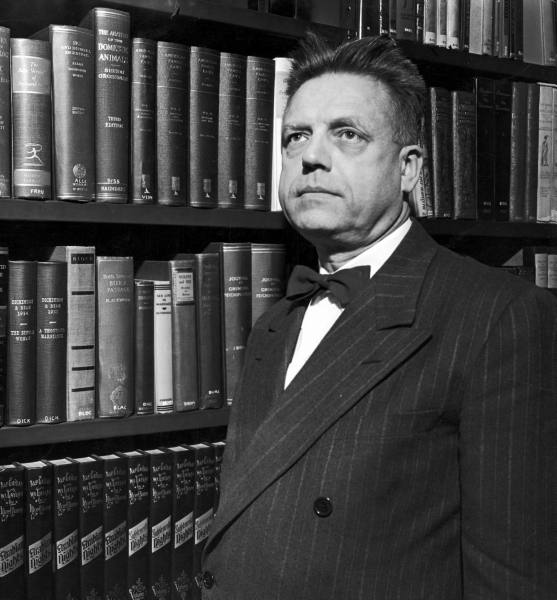 When it comes to changing cultural attitudes on sex, Alfred Kinsey stands out as a major historical figure. When he published Sexual Behavior in the Human Male over 60 years ago, he became an instant celebrity, and the leading scientific figure studying human sexuality.
Kinsey's interest in sexuality was hardly a pure academic pursuit. There is still controversy today surrounding his own masochistic sexual practices, his involvement with pedophiles, and the bias of his research. (For an excellent article on this, read "Kinsey: Deviancy is the New Normal." Reader discretion is highly advised.) All the same, many psychologists still thank him for "liberating" sex from its Victorian chains.
– – – –
Kinsey: Advocate of Sexual Liberation
A recent post on Psychology Today by Marnia Robinson praises Kinsey's condemnation of sexual repression. "Determined to break the association between guilt and sex, [Kinsey] insisted that repression was our greatest peril. . . . At present, mainstream America is pretty firmly persuaded that Kinsey had it right."
Today many researchers believe that one's association of sex with guilt only increases the chances of sexual addiction and dysfunction. If sexual outlets are seen as dicey, illicit, or evil, the belief is that this association will merely increase the novelty of the sexual act, which intensifies the neuro-connections and feeds addiction. Kinsey believed that religious conditioning which made sex out to be unnaturally risky or morally wrong was detrimental to sexual health. Kinsey's answer? Teach orgasm as nothing more than an outlet, and divorce sexuality from morality.
– – – –
But the Primary "Danger" is Not Repression
Robinson raises a voice of caution, however: In both Kinsey's research and private life, his sexual behaviors became more and more compulsive. In his pursuit to demolish sexual repression, he became hooked on a need for more extreme sexual stimulation.
Many today report similar addictive tendencies when it comes to pornography, but religion has little to do with it. Robinson writes,
"Men began showing up on my website's forum, desperate to unhook from escalating Internet porn use. Like Kinsey himself, they were trapped in the search for increasingly extreme sexual stimulation, and the withdrawal symptoms when they tried to stop were debilitating…. When I inquired confidently about their religious backgrounds, I was surprised to learn that many had none. Guilt about sex was apparently not the cause of their addictions."
The attitude of some researchers is beginning to shift: sexual repression is still seen as a danger, but not the primary danger. Rather, psychologists are warning against highly charged sexual experiences, whether they are fueled by hypersexual media or by "religious guilt." While Robinson still calls repression a "peril," she believes a fear of sexual repression in our culture "may be leading more and more of us to wreck ourselves on the hidden reef of addiction."
What is the solution? Robinson says we must "codify the need for a healthy middle ground." She calls us to "focus greater effort on bonding behaviors," rather than encourage "unfettered sexual expression."
– – – –
The Case for Early Marriage
Meanwhile, on the Christian landscape, there is also a new surge of effort to encourage "bonding behaviors," i.e. marriage. In last month's issue of Christianity Today, Mark Regnerus presented his "Case for Early Marriage."
The main thrust of the article is that the abstinence message in evangelical circles has not worked. Strong teaching, virginity pledges, and purity rings haven't made a big difference. Regnerus believes our American (and Christian) preoccupation with sex, combined with our encouragement to delay marriage, is a recipe for failure. "We buy, read, and pass along books about battling our sexual urges," Regnerus states, "when in fact we are battling them far longer than we were meant to."
From a sociological perspective, Regnerus says we are following the trend of other societies before us who have experienced lengthy economic prosperity: men and women lose the motivation to marry and have children. As Regnerus explains, in the past 35 years the number of independent female households in the U.S. has grown by 65%, and the number of independent male households has grown by 120%. The median age for first marriages have also gone up since 1970: for women, 21 (then) to 26 (now); for men, 23 (then) to 28 (now).
So while our sexual ethic has held fast, our ideas of marriage have changed. We believe marriage is the "capstone that completes the life of the autonomous self." We advise our children to finish their education, launch their careers, and become financially independent. We believe we shouldn't rush into a relationship. Regnerus explains:
"Most young Americans no longer think of marriage as a formative institution, but as the institution they enter once they think they are fully formed. Increasing numbers of young evangelicals think likewise, and, by integrating these ideas with the timeless imperative to abstain from sex before marriage, we've created a new optimal life formula for our children: Marriage is glorious, and a big deal. But it must wait. And with it, sex. Which is seldom as patient."
Regnerus is not unaware of the objections to his early marriage paradigm. He suggests turning common weaknesses of early marriage into opportunities for the church to mentor young couples.
Instead of provoking a fear of economic insecurity, parents can teach realistic standards of living, the need to grow in struggles, and show a willingness to help.
Instead of highlighting the immaturity of young couples, use it as a platform for deliberate mentoring.
Instead of reinforcing the belief that chemistry is everything, parents and pastors can teach the centrality of covenant relationships.
Instead of reinforcing the tendency to marry for sex, we can teach young couples to understand that singleness and marriage is ultimately not about us and our pleasure, but about serving another.
Instead of speaking of marriage as a blissful honeymoon, Christians can help young couples to see that marriages must become beautiful through trial and difficulties.
Contra Kinsey, sexual repression is not our greatest peril, but as fallen creatures in a fallen world we are swimming upstream amidst a raging river of sexual energy. Secular psychology can recognize the problem: encouraging unhinged sexuality without encouraging "bonding behavior" is unhealthy. Christian culture is recognizing something similar: encouraging postponement of sex until marriage without actually encouraging marriage is a recipe for disaster.