I couldn't resist reporting on this. When a Lion's Den (adult store) opened in Uniontown, Indiana, four years ago, I'm sure the owners were not prepared for the community reaction. Thirty-five residents have protested outside the Lion's Den in shifts for four years—365 days a year, 24 hours a day. Their website boasts: this is the longest running protest against a sex business in the United States.
They are the Uniontown Watchdogs.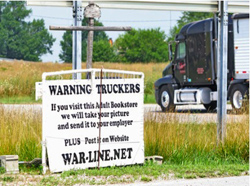 When a truck driver pulls into the Lion's Den parking lot he sees a sign: "Warning Truckers. If you visit this adult bookstore we will take your picture and send it to your employer. Plus post it on website War-Line.net." Similar signs warn other potential Lion's Den customers. And the Watchdogs make good on their promises (their website features dozens of pictures of Lion's Den patrons, many whom seem rather . . . um . . . irritated by the Watchdogs).
According to the owner, Ronald Stone, the business model estimated over 200 truck visits per night. However, 90% of the potential customers turn away when they see the signs. According to the protesters' website, the Lion's Den property is now up for sale, and two local buyers are soon to make offers on the property (to be used for anther type of business).
What else has the protest accomplished? One of the protesters signs offers free Bibles to Lion's Den patrons: they've given away over 1,000 Bibles to date. Protesters have also prayed with customers who wanted help for addiction or relationship problems. The Watchdogs claim over 100 customers have prayed to accept Christ in the last four years. In addition, a parole officer from another county ran the plate numbers recorded by the Watchdogs and discovered several sex offenders violating their parole.
What do you think about this protest? Some have mentioned that the protesters are guilty of harassment and intimidation (Title 35, Article 45, Chapter 2 of the Indiana Code). Others say the protesters are merely exercising their first amendment right to assembly. Some say they are doing injustice to their anti-porn message with their methods. Others think they are being good concerned citizens doing their part to rid Uniontown of adult businesses.