Covenant Eyes Podcast – Episode 29
[display_podcast]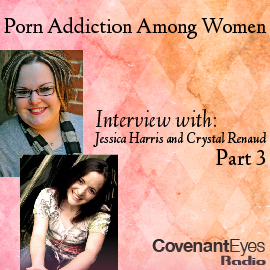 This is the 3rd and final part of our interview with Crystal Renaud and Jessica Harris, two women who have come out of a background of pornography addiction.
Today both will share the turning point in their stories, the moments when they began their journey out of slavery to pornography. Jessica will give her words of advice to the struggling woman who has yet to confess this sin to anyone. Crystal will also talk about putting away the idol of pornography  so that we might experience fullness in Christ.
For more information about Crystal Renaud visit DirtyGirlsMinistries.com, and for more information about Jessica Harris visit BeggarsDaughter.com. On these sites you can learn more about porn addiction among women, read stories that inspire hope for recovery, share your own story, and learn more about how to make Christ the focus of our efforts to overcome addiction.
See also Part 1 and Part 2 of this interview.