The American Family Association of Indiana (AFAIN) has been splashing these billboards throughout their state: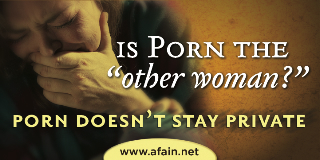 AFAIN Executive Director Micah Clark comments, "Men may not see it this way, but women I've talked to who have been victims of pornography very much see their husband's or their boyfriend's use of pornography like a virtual adultery." We've received similar comments from many of our blog readers.
The billboards have caught the attention of Indiana media.
In addition, AFAIN has set up a simple website with links to helpful articles and resources for married couples.