The following is a review of Chapter 5 of Why Small Groups? by C.J. Mahaney. This free e-book is available on the Sovereign Grace Ministries online store and is a helpful guide for accountability groups.
. . . .
If there is such a thing as a "silver bullet" for Christians struggling against temptation, you can find it in Mickey Connolly's chapter, "The Art of Care and Correction" in Why Small Groups? Connolly tackles the most sensitive issue that keeps many believers from helping each other win their battles against sin—soul-bearing intervention.
With all the alarming stats that reveal how Christians are failing to live holy lives, why aren't more Christians assuming the role of Good Samaritans (Luke 10:29-37)? One answer is they are probably afraid they don't know how to help. If that's the case, and I fear that it is, then Connolly's sagely instruction is good news to Christians everywhere. He states that "the primary goal of small group ministry is sanctification," and "the primary roadblock to both personal maturity and biblical relationships is sin; sin in our own life; sin in others' lives; a world fallen because of sin" (61). To our sin problem, he contends that "we can find both help and hope in committed relationships that can grow out of small groups." He borrows his underlying premise from Wayne Grudemn: "Sanctification is usually a corporate process in the New Testament." He builds his chapter on this premise, "One can acquire anything in solitude except character" (61). Applying other catchy proverbs like, "it is better to build a guard rail at the top of a cliff than to run an ambulance service at the bottom" (66), with cast iron biblical truth, Connolly shows believers how to come together and build stronger rails. The fact that churches aren't building strong enough rails is evident from our over-taxed increasing ambulance endeavors. Christians simply aren't being encouraged to regularly ask each other about their areas of struggle, nor are they being trained in how to respond when others seek help (Gal 6:1-3). If any pastor seriously wants to lead his congregation in living holy lives, then he must equip the saints to help the saints overcome their sullying sins. Connolly explains what well-equipped small groups do: "God uses people to help reveal sin. . . . Once sin is exposed, God gives us others who help us deal with our sin through confrontation, counseling, encouragement, accountability and prayer" (61).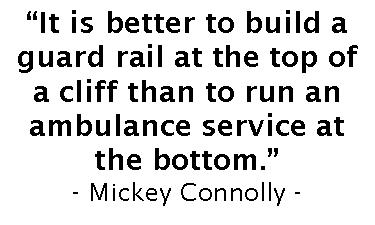 It is a strange reality, however, that when we are in sin we want help, but we don't want to expose our sin. We fear that if we expose our sin, we will be rejected—and rejected as sinners. So instead of seeking encouragement to confess our sins, out of fear we forfeit God's promise to forgive us as humbled confessors (1 John 1:9). We choose to hide our sin and wane under the weight of guilt. Connolly shows us a better way, a more biblical way of dealing with the shame of sin. In addition to his careful instruction showing believers how to humbly and graciously help other believers ensnared by sin, he shows how biblically functioning small groups provide an environment of care and correction, which invites intimate accountability. Because of the caring context of small groups, believers can feel secure enough to allow others to help them carry the burden of even the most secret of sins. Connolly teaches that since sin is the real obstacle that keeps us from being Christ-like, sin—no matter what it is—must be thoroughly dealt with.
Connolly notes (and takes on the challenge) that men in particular find it difficult to open up; rather, they choose to keep their conversation "on the peripheral" (63). Yet I believe Connolly's honest, transparent straight-talk will be persuasive to men. Men who love Christ and are struggling with sin still desire to have their thirst quenched with holiness. They want help and will accept it if offered in a Christ-like way. I think the time is right for a tool like this for men. At least that's what's happening at our church: we just launched small groups, and the men are not holding back. The participation in our men's ministry is at an all time high and it is anything but superficial.
I particularly appreciate Connolly's insistence that overlooking sin cannot be an option. No believer is automatically immune to sin. We all must face it, as he quotes from Luke 17:1, "Temptations to sin are sure to come…" (65). On this basis he prods the reader that believers have to learn how to comfort, counsel, encourage, help, and correct one another. He acknowledges that difficult counseling cases should be delegated to pastors (drawn by application from Exodus 18). Yet he balances that prescription with the biblical truth that all believers are equipped by God to help one another, then he proceeds to apply principles to show the reader how.
When seeking to help someone deal with a sin, he advises: first, determine if it is necessary to confront (Proverbs 19:11). To answer that, determine if it is a pattern, if it needs immediate attention, if it is in God's timing to confront, and if you are the one who is called to facilitate the confrontation (69). If we must confront, we must do so with the right attitudes: gentleness, patience, humility, and genuine concern for the welfare of others (70). And of course, we must pray. All this must be done in a private environment, affirming the sinning believer. Connolly adds: "Try to help the person formulate a plan to resist temptation or be accountable. . . . And make sure you follow-up" (71). Finally, he talks about confessing sins. He writes, "confess your sins honestly, clearly, specifically, and completely. This means you not only confess your words and actions, but your motives as well" (p. 73).
With inspiring sidebar quotes and insightful counsel, Connolly helps mature believers help less mature believers. He proves (on every page) that he's no novice at the business of equipping believers to discipling others towards holiness. In Why Small Groups? Connolly takes on the hardest topics, and his work is more than up to task. I enthusiastically recommend it.