Veronica and I met in October 2000. I had been clean for one month. That September, I accepted Christ while sitting on my forklift at work. I gave up my entire lifestyle . . . friends, parties, drugs, alcohol, everything. When we met, neither of us were interested in a relationship. As a matter of fact, she was still partying pretty hard.
We hung out and got to know each other, and that November I told her I had been praying and felt that I was supposed to ask her to marry me. She actually said, "No! And don't ever say that again!" I just told her to pray about it. A few weeks later, she said, "Well, do you want to go look at rings?" We were married January 19, 2001. Everyone thought we were absolutely crazy.
That is when the masks began.
The Web of Sin
She introduced me to the Internet, and it wasn't long until I discovered that the World Wide Web was more like the Wild West. I started sneaking out of bed to go get online. I would have a fling with my computer from 11:00 at night till 4:00 in the morning. I thought it was hidden and I definitely didn't think this affected my wife.
Veronica figured out pretty quick what was going on. She chose not to confront me about it though. She said that she thought it was her fault. She thought she wasn't pretty enough or skinny enough to please me. So that is why she figured I was getting online all the time. Rather than addressing the problem with me, she actually fell back into an eating disorder that she struggled with in high school. She fell hard into bulimia. I had absolutely no idea that it was going on. We hid our secrets from each other and everyone else.
We wore a perfect mask for each other and everyone else. I was playing drums at church on Sunday and traveling in a Christian rock band, and she was singing on stage every Sunday at church as well.  People would ask how we were doing, how's our marriage, etc. And we would just wear our masks and tell everyone life is great and God is good. Unfortunately, neither of us were relying on God to help us through our problems.
Finally, after a year, Veronica had had enough. Obviously her solution wasn't fixing anything; it was only making life worse. So one morning I snuck back into bed, and she simply said, "I know what you're doing." We had to have a "sit-down" talk over all of this. I had no idea that my personal, hidden addiction had this much of an impact on her. She confessed that she had been struggling with an eating disorder due to my addiction.
Our first solution was to shut off the Internet. That was nothing compared to her leaving me—which, according to the world, she could have done several times with good reason. We realized we had to lean on God to get us through this time. We became an open book to each other. We were both fallen soldiers and chose to fight this battle together. We said "I do" not only to each other, but also to God.
This is where the dreams began.
Dream Weaver
I started waking up in the middle of the night and felt like someone was pulling me out of bed. I had no clue why. I started to get up every night and write down the dreams I had. I decided that I was supposed to be in the battle against my addiction, and at first I thought I was supposed to start a merchandise company called "X-Porno Junkie." I didn't know that millions of men had the same addiction because it is so hidden. So I figured if I could help create awareness, it might help other people to become free of their addiction.
I kept asking Veronica for money to make this happen, but she didn't want anything to do with it, and honestly was still mad.
Well, the dreams continued. I started to write storyboards, music, stage ideas, monologues, etc. I have been a drummer for 23 years, so all of my music revolves around drums. That is the gift God has given me, and He was preparing me to use that gift for his purpose. Finally, Veronica agreed that I could have a little money to do "something" with my dreams.
We knew we'd have to have the Internet in order to do any kind of business. So our agreement was that we would be online but we would have to have accountability software downloaded onto our laptop. I agreed, but the temptation was too strong. The very first email report she received showed that I dove head first back into my addiction. I actually tried to deny it at first, but she told me that the report shows when and how long I was on the sites. It showed that I had gone back to a certain page over a few days. I had to ask for forgiveness and we agreed that if it ever happened again, the Internet was gone. I'm happy to say that my reports have been clean ever since that day. That doesn't mean that the temptation isn't there and as strong as ever.
Well, the dreams continued and I asked my buddy Philip if he wanted to mess around on a few songs with me. I told him about my dreams about the performance, message, and videos, and he loved the idea. Veronica still wasn't sold. I taught drums out of my house, so we had two kits set up at all times. So she didn't mind that Phil and I would retreat to the drum room to write songs.
When God Yelled "JUMP"
On July 16, 2006, I was in Minnesota at a festival. Veronica was leading worship at church and there was a guest speaker. He was a full time missionary and had sold everything to move to India. He spoke about the American dream and asked, "What are you really living for? If you died today, would you be proud of the life you have led and would you be proud of the crown you would lay at Jesus' feet." She said that God yelled JUMP that day. Veronica managed a multi-million dollar company, she's got a degree in marketing, and aside from the 2.5 kids, we had the American Dream. She called me in between services and said, "Whatever you've been dreaming about and writing down, God told me today that we're doing it. We're selling everything we own to show what God has done for us." I thought she was crazy or on drugs.
Turns out, by the time I got home, she had a business plan, a budget, and now we're an LLC. Her business mind is exactly what I needed to get this moving. We told a few people about our plans. Most of them thought we were nuts and never thought we would really go through with our plan. A few people, including our pastor and his wife, were 100% supportive. That was so critical, because if they would have spoken negativity into our lives, we would have been second guessing everything.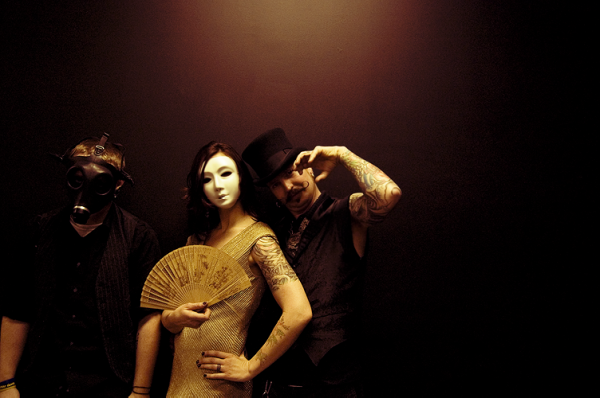 Right away we started filming the videos because I already had the complete storyboards. Our buddy Travis Joiner, from 777 Productions, totally caught the vision, supported us from the beginning, and he filmed/edited all of our videos. We hit the studio in January and were able to start putting the live show together. Throughout this time I was still having dreams and we were preparing everything. Later that year, I had a dream about a female bass player. I told Veronica about it and she said, "Cool, I can't wait to meet her!" But I told her: "The dream was about you!" She was supposed to play bass. This is funny because she's never played an instrument. But she trusted my dream and started to learn.
God has used two drummers and a girl who doesn't even play bass to deliver His message. This is proof that God cares more about your availability than your ability. Veronica quit her job in May, 2008, and (P)hilip quit in October. With the help of friends, we purchased an RV (Harvey) and a trailer to haul our gear. Aside from what is in the RV and trailer, we sold everything else because that is what God told us to do. We sold our cars (including a 1966 Austin Healey Sprite Mark III) and we closed on the sale of our house on March 10 of this year—which is a story in and of itself. You can read about it in a blog we posted on our website.
We have been traveling across the country to share our story. To show others that they are not alone and you can rise from your mistakes. It has been an absolutely amazing experience and we look forward to what God has in store. He has shown us that through faith and obedience, you can truly live the life God promises.
---

TD Benton is a member of White Collar Sideshow. This band, with its one-of-a-kind presentation, is on tour and is addressing the issue of porn addiction and temptation.