I have the privilege of talking with many people who minister to others in the area of sexual sin: the youth minister counseling hormone-charged teens, the pastor getting ready for a sermon on lust, the counselor meeting with sex addicts, or the brave soul reaching out to women in the adult industry.
But no type of ministry is perhaps as overlooked, underfunded, and stigmatized as a ministry to homosexuals.
The church exists to be a redemptive community for all types of people with all types of sexual brokenness—heterosexual and homosexual sin—and this is what First Stone Ministries (FSM) of Oklahoma is all about.
First Stone Ministries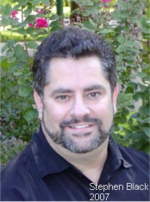 I had the privilege of speaking with Stephen Black, the Executive Director of FSM, on the phone recently. Stephen is a man with a big heart for the sexually broken. His own story has provided hope to many people coming out of a homosexual lifestyle. He understands firsthand the process of change. Looking back over his life, he sees the events that laid the groundwork for his lifestyle of homosexuality. Living with a distant father, molested by a male babysitter at age 6 and again by a stranger at age 10, Stephen's teenage mind and heart coped with his confusion and hurt the only way in knew how—by desiring to connect to men in a sexual way. Years later several encounters with God and a process of counseling brought him from an openly gay lifestyle into a relationship with Jesus that forever has changed him and his sexual desires.
Today Stephen and several others who have a background of sexual brokenness work full-time for the ministry of First Stone. Stephen started working for them in the early 1990s, but the history of First Stone goes back much farther. In 1976 Frank and Peg Rogers founded an evangelism ministry called "Fisher's of Men Evangelistic Corporation." This couple soon learned their son was a homosexual. Finding no local help from the church, Frank and Peg began putting their ministry focus on understanding and healing of homosexuality. In 1981 the ministries' name was changed to First Stone Ministries and became an independent non-denominational ministry to those who struggling with homosexuality.
Today their mission is to come beside the church to offer one-on-one counseling, support groups, and education for the sexually broken. By "sexually broken" they mean any devastation brought about by behaviors outside of God's original intent of sexuality (adultery, promiscuity/fornication, homosexuality, lesbianism, sexual abuse, molestation, prostitution, pornography, transexuality and transvestitism). They minister to 60-80 people a week: about half of which come from a homosexual lifestyle.
The Porn Epidemic
In my conversation with Stephen Black he was emphatic about his concern over Internet pornography. Many people that have come through the doors of First Stone over the years have had problems with pornography, but the number of those addicted to pornography has greatly increased recently. He told me that around 75% of those at First Stone have ongoing problems with Internet porn. It is becoming a major emphasis in their ministry to the sexually broken, especially among young people.
Is Change Possible?
For some, a ministry that helps people with sexual orientation issues may sound strange or even offensive. The idea of someone changing their sexual orientation may sound like a leopard changing his spots: can it be done?
This news program featuring First Stone Ministries highlights the debate on this topic:
The views between First Stone Ministries and those of Dr. Scott Jones are contrasted in this video. Here Dr. Jones, an openly gay minister, says that when the apostle Paul says "men who practice homosexuality . . . will not inherit the kingdom of God" (1 Corinthians 6:9-10) he is not referring to the kind of "loving, monogamous relationships" between homosexual couples today, but to abusive and violent sexual practices (such as the raping and pillaging by soldiers or the ritual sex of idol worship).
Many have taken this approach to texts like this in Scripture in order to reconcile one's homosexual desires with a desire to be a Christian. This sort of interpretation does great injustice to the text, however. For if Paul was trying to discourage abusive sexual practices regardless of hetero- or homosexual orientation, then terms like sexual immorality, adultery and other general terms would have sufficed. Plus, Jones' interpretation of this and other texts does not take into account the Bible's concepts of maleness, femaleness, and God's design for marriage.
So while Paul lists homosexual activities among other vices in 1 Corinthians 6, he goes on to say that many of the church in Corinth "were" identified with those practices before, "But you were washed, you were sanctified, you were justified in the name of the Lord Jesus Christ and by the Spirit of our God" (v.11). This could be said, also, of many of the people at First Stone. For over 30 years countless individuals have found First Stone to be a community of acceptance, healing, repentance, and hope. Many have been radically changed.
For More Information
First Stone is a member ministry of Exodus International, the largest information and referral ministry in the world addressing homosexual issues from a biblical perspective. For a list of other Exodus affiliates, click here.
To read stories and testimonies from those touched by the ministry of First Stone, click here.
First Stone also has an impressive archive of articles with topics ranging from sexual addiction to pornography, from homosexuality to biblical resources, and from cross-dressing to marriage. To see their list of articles, click here.
To learn more about donating to First Stone Ministries, click here.