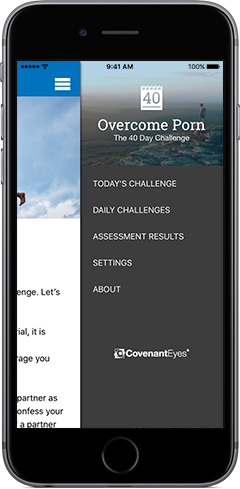 Overcome Porn: The 40 Day Challenge is an iPhone® app from Covenant Eyes. It is available on the App Store.
Using the App
This app is divided into 40 days of readings and reflections, with a brief introductory video before beginning the challenge. Each day includes:
A brief introduction to the day's topic.
An article or video for deeper understanding.
A unique question for reflection.
Three charts to track your progress.
In order to progress to the next day's reading, you must complete at least the introduction and the reading or video on each day. Once you have unlocked a day, you may return to it at any time to reread the materials or complete your reflection.
Frequently Asked Questions
Do I have to be a Covenant Eyes member to use this app?
Nope! This app is available to everyone in the App Store.
Do I create an account or use my Covenant Eyes account?
The app account and your Covenant Eyes account are entirely independent. Feel free to use the same e-mail address, but know that the two accounts will not be connected.
Who should receive my assessments?
It's entirely up to you. You can e-mail your assessment results to whomever you choose. If you use Covenant Eyes already, we recommend sharing these with your Accountability Partner. If you do not already have one, this is a great time to invite someone to help you on your journey.
Will the app erase my progress if I update to the newest version?
No, the app should save your progress if you update to the newest version. The app should only erase your progress if you uninstall and reinstall it.
Why can't I open links in this app?
To protect your integrity online, we wanted to ensure that our app could not be used as a browser. If you click a link, you will see a pop-up with the warning and options to "Continue," "Run Away," or "Copy Link."
If you choose to err on the side of caution by not accessing the Internet, tap "Run Away!" and the pop-up will close, returning you to the safety of the Overcome Porn app. If you choose to follow the link, tap "Continue" and the link will be opened in Safari. If you choose to follow the link, but you have Safari disabled, you can tap "Copy Link" and then navigate to your Covenant Eyes browser and paste the link in the browser address bar.
Can I start over?
All data will be lost; however, you can uninstall and reinstall the app and start back at Day 1.
What if the app crashes?
Close the app and reopen it; do not uninstall it. All the data is stored locally, which means if you uninstall the app and reinstall it you will have to start over at the very beginning.
What if I forget my passcode?
Click "Forgot My Passcode" on the passcode screen. A pop-up will inform you that your passcode will be emailed to you, and it will display your email as entered it during the app set-up process. Click "OK," and you'll be shown another pop-up confirming the passcode has been sent.
Apple, the Apple logo, iPhone, and iPod touch are trademarks of Apple Inc., registered in the U.S. and other countries. App Store is a service mark of Apple Inc.