How do I set up the Android app locking?
The Covenant Eyes Android app includes an App Locking feature. App Locking gives you the ability to lock and block the user from opening and using apps.  If you are a parent, it's recommended you enable App Locking for your kids. If you are the user, it's best to have your Accountability Partner or spouse enable App Locking for you.
Enabling App Locking
To enable App Locking, open the Covenant Eyes app and select "Enable App Locking" from the menu.

You will be asked to create a 4-digit passcode. Type your code in twice, to verify. This code is used to secure the App Lock settings, and keep the user from altering them.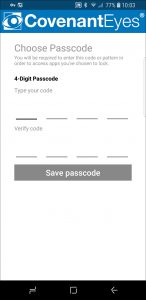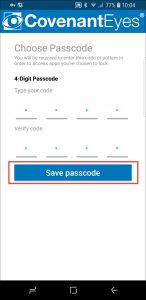 Once you have entered in the App Lock code you created, you will see a list of all the apps currently installed on the device. Choose which apps you would like to lock by clicking on the green, open-lock icon. The lock icon will then turn red, meaning that the app is now locked.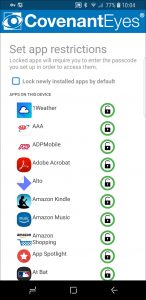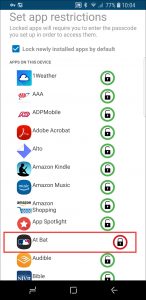 In App Lock settings, you can also lock newly installed apps by default. If desired, check the box next to "Lock newly installed apps by default." This means any app that is installed by the user will automatically be locked. With this setting checked, once a new app is installed, it will require the 4-digit App Lock code to open.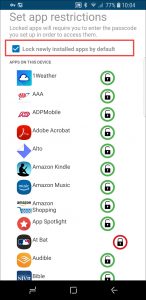 Once you are done "locking" apps, scroll to the bottom of the apps list, and click "Save App Lock Settings."

Setting and Locking DNS Settings
Covenant Eyes allows you to set a custom DNS, such as OpenDNS FamilyShield. This allows you to provide an extra layer of content blocking on your Android phone or tablet. You can both set your custom DNS and lock it under App Locking, thus preventing the user from being able to remove the custom DNS.
Unlocking Apps
To unlock an app for only one use, open the desired app. Type in the 4 digit code you created when you enabled App Locking, then click "Submit."
If you want to permanently unlock the app, check the box next to "Make this override permanent." This will allow the user unlimited access to the app. Another way to permanently unlock an app is to go to the Covenant Eyes app and select "App Locking." Then type in your code, click on the red, locked icon next to the desired app, and the lock icon will turn green. Finally, scroll to the bottom of the apps list, and hit "Save App Lock Settings."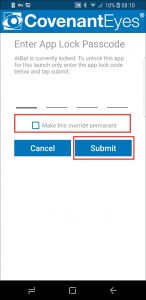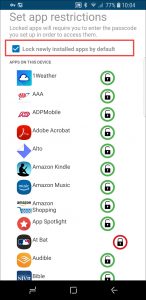 Disabling App Locking
To completely turn off App Locking, open the Covenant Eyes app and select "App Locking." Type in the 4-digit code (the code you created when you enabled App Locking). Scroll to the bottom of the apps list, and click "Disable App Lock."