How do I set up the Android app locking?
The Covenant Eyes Android app includes an app locking feature. If you are a parent, we recommend you set app locking restrictions for your kids, and that your Accountability Partner or spouse sets them for you.
To enable app locking, open the Covenant Eyes app and select "Enable App Locking." You will be asked to choose a 4-digit passcode.
From there, choose which apps you would like to lock down. We recommend locking down any app that allows you to browse the Internet unmonitored. We also recommend locking down Google Play to prevent the user from installing such apps. Check out our list of the apps we monitor fully.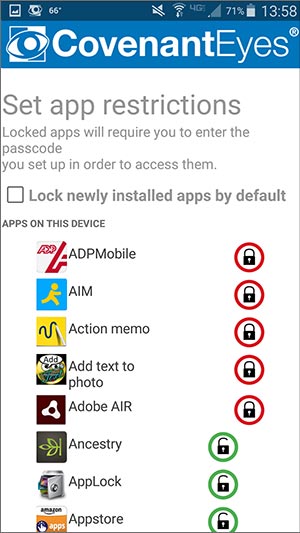 To allow an app that has been locked down, just open it and enter your four-digit pass code, or open the Covenant Eyes app and unlock it. The app will then be enabled until you disable it through the Covenant Eyes app again.
Due to an early 2018 change to the Android OS, we are currently experiencing some service issues on Android phones and tablets, which can usually be fixed by simply restarting the device. We are currently testing a more permanent fix and expect to release it soon.