How do I set up the Android app locking?
The Covenant Eyes Android app includes an app locking feature. If you are a parent, we recommend you set app locking restrictions for your kids, and that your Accountability Partner or spouse sets them for you.
To enable app locking, open the Covenant Eyes app and select "Enable App Locking." You will be asked to choose a 4-digit passcode.
From there, choose which apps you would like to lock down. You may want to install Google Play, for example, to prevent users from installing inappropriate apps.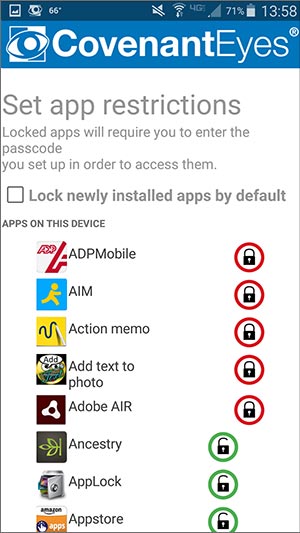 To allow an app that has been locked down, just open it and enter your four-digit pass code, or open the Covenant Eyes app and unlock it. The app will then be enabled until you disable it through the Covenant Eyes app again.
Covenant Eyes is currently releasing a brand-new version of our Android app, but it will take a few weeks for all users to receive the new functionality. Until then, some features and functions of our app may be different from what is described here.