How do I prevent someone from uninstalling Covenant Eyes?
To uninstall Covenant Eyes you must have an uninstall code. (For more information, read How do I uninstall Covenant Eyes?) Because our users depend on Covenant Eyes to help them maintain control over Internet use, it is very important to make it as difficult as possible to get an uninstall code for unauthorized users.
Who is authorized to get an uninstall code?
Account Administrators, Filter Guardians, Enterprise Administrators, Filter Users, and Accountability Users who have permission to uninstall can generate uninstall codes from their online account or by calling our Customer Support team. Someone must have a proper username and password to generate a code.
Being notified of uninstallations
Each time an uninstall code is generated by a user, that user's Accountability Partner(s) is notified via e-mail. In addition, this information can be seen in the Accountability Reports.
Preventing uninstallations
Users that have been marked as "Child" in our system are prevented from generating an uninstall code by default. You can also manually prevent users marked as "Adult" from generating this code. By adjusting this setting, these users will no longer see the "Uninstall" option in their online account. It also prevents that user from receiving an uninstall code from our phone prompt system or from a Customer Support Representative.
To prevent a user from generating an uninstall code, click here and select the gear icon by the username you wish to restrict. Then remove the check mark from the "Uninstall Permission" box and hit save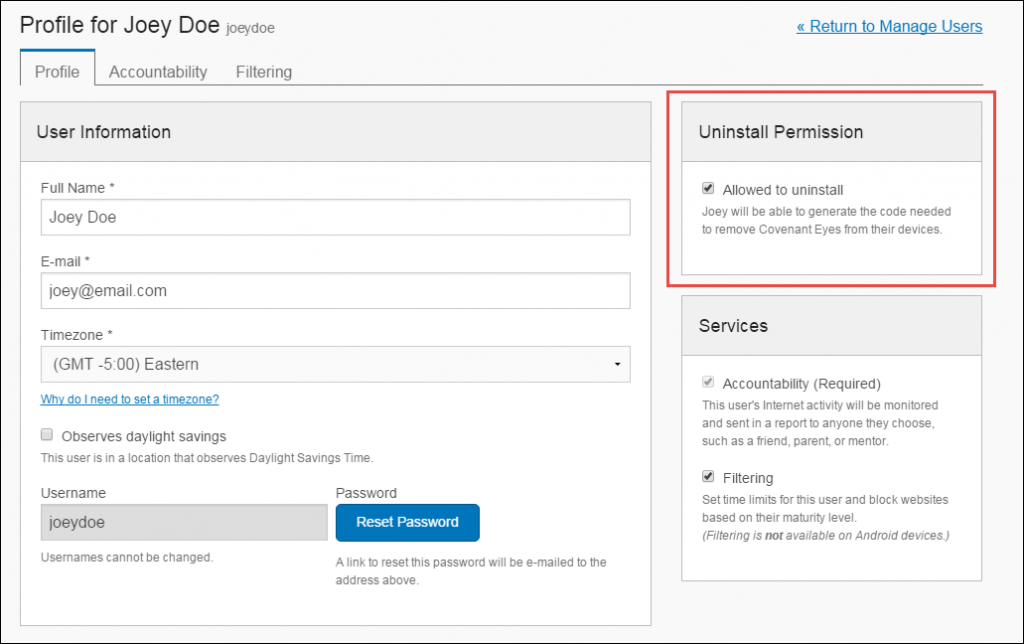 By the way, make sure you keep your username and password a secret. Password security plays a big role in preventing uninstallation.