How do I install Covenant Eyes on an iPhone®, iPod touch®, or iPad®?
Covenant Eyes offers an app for iPhone®, iPad®, and iPod touch®.  It monitors and reports Highly Mature top-level domains across the entire device, and enforces Safe Search through Google and Bing across all apps. For Filter users, it also enforces "restricted mode" in the YouTube app. A browser with full Accountability and Filtering is built in to the app as well.
This app is free to subscribers of Covenant Eyes Internet Accountability and Filtering. It can be downloaded from the App Store.
On your iPhone, iPod touch, or iPad, find and tap your App Store icon. Click "Search," then type in "Covenant Eyes." Click on the Covenant Eyes app to open the information screen.
From the information page, click the "Get" button, then click the "Install App" button. You will be asked to enter your iTunes username and password. NOTE: If after clicking the FREE icon it turns to a gray button that says INSTALL, you will need to make sure the Age Restrictions are set to 17+, which may be adjusted under "Settings.
Once you have installed the app, you'll need to open the app to sign in with your Covenant Eyes username and password
On the "Setting up your Protection" screen, you'll need to swipe left to proceed to the next step.
To ensure protection we now require VPN access. Press the green "Install VPN" button.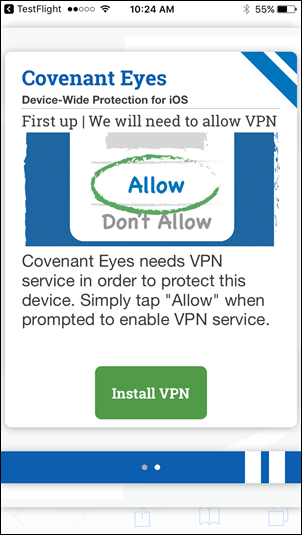 Click "Allow" when asked if you allow Covenant Eyes to add VPN configurations.
You'll then be asked to verify with your fingerprint or screen lock passcode.
Once the VPN has finished installing, you will need to allow Covenant Eyes to send notifications. Press the green "Let's Do It" button.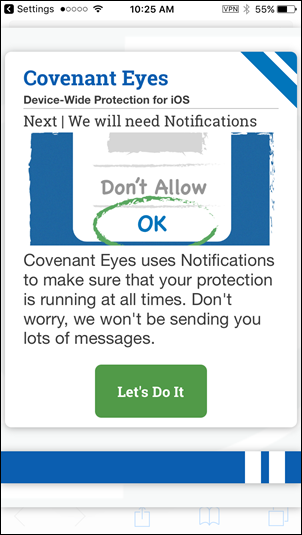 Press "Allow" when asked if you allow Covenant Eyes to send you notifications
You have now finished setting up the Covenant Eyes app for iOS. Press the green "Finish" button.