How do I cancel my Covenant Eyes account?
There are two steps to canceling your Covenant Eyes account: uninstalling the software from your devices and canceling your account.
Uninstall the Covenant Eyes Software by generating an uninstall code online. (Read: How do I uninstall Covenant Eyes?)NOTE: simply uninstalling Covenant Eyes does not cancel your account. You will continue to be billed until you call into Customer Support and cancel.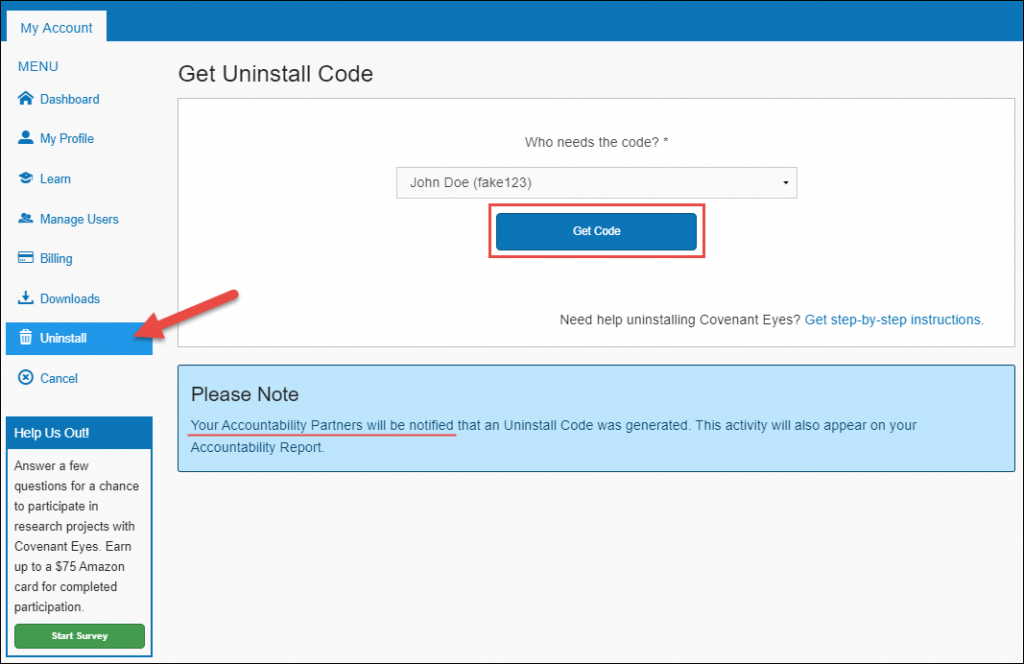 2. Close your account by calling Customer Support toll-free at 877.479.1119 (or 989.720.8000 internationally).
Are you canceling for financial reasons? Call Customer Support and ask about our hardship program, and learn more about how Covenant Eyes fits into your budget.
How to reactivate your account
If you decide to rejoin Covenant Eyes at any point, it's easy:
Just sign into "My Account" using the username and password you wish to reactivate
Once you sign in, you will see a notification box informing you that your account is deactivated
Click on the link in the notification to reactivate your account 
Once you have clicked on the link, you will be asked to update and confirm account information
You will then be able to check and modify settings for all users