If you are an Account Administrator, you can add or remove people in your online account. If you are using a Family plan, you can add, edit, or delete usernames at no change of cost. If you are using a Personal plan, your monthly bill may vary depending on the services you use.
Adding a Member
In the sidebar, click "Manage Members." From there, click on the "Add a Member" button in the upper right corner. You may also go directly to the Add a Member page by clicking here.
Enter the first name, last name, email address, and desired sign in information of the new member. Make sure to also select the correct time zone.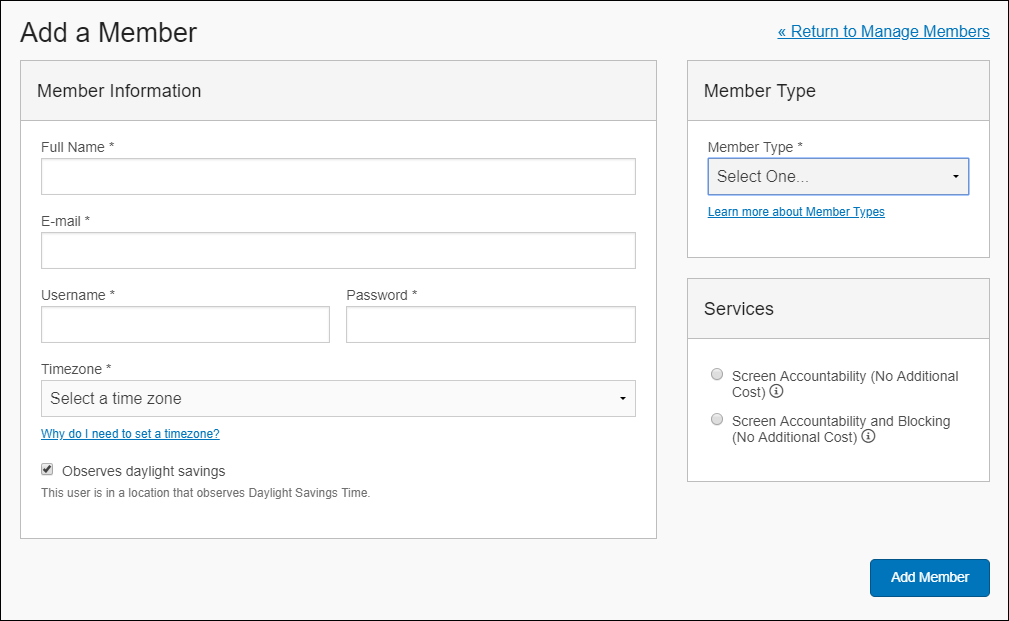 If you are on a Family plan, you will be asked whether this member is an Adult or Child. These roles adjust a number of defaults in our system. Most importantly, all Adult (Parent) members will by default receive accountability reports and adjust Filter/blocking settings for all Child members on the account. All Family plans with at least one Child must have at least one Parent on the account as well.
Currently, there is no way to switch an existing member between Adult and Child settings. If you did not set whether the member is an Adult or Child during the sign up process, then all members are set to Adult (Non-Parent). If you add a Child to your account later, you will also need to add an Adult (Parent) member.
Finally, choose whether you want them to use Accountability, or both Accountability and Filtering blocking feature.
Once you have finished adding this person, click the blue "Add Member" button.
Editing a Member
To edit a particular member, click the gear icon next to that person's name.
From there, you can change the member's name, email address, or time zone. You can also add, adjust, or remove the Blocking/Filtering service.
You can also decide whether you want this member to be able to uninstall Covenant Eyes without your consent. By default, any member marked as Adult in our system can generate an uninstall code, but any member marked as Child will not.
Once you are done, hit "Save" to apply your changes.
Deleting a Member
To delete a member, simply click the trash can icon by his name. A confirmation screen will pop up and you will click "Confirm" (to delete the member) or "Cancel" (if you do not want to delete the member).