If you are an Account Administrator, you can add Filtering services to any user on your account using "My Account." Adding Filtering will allow you to block websites based on age-appropriateness for each user. Learn more about the Covenant Eyes Filter.
Adding the Filter
To add Filtering services for a particular user, sign into your online account and click "Manage Users." Find the user who will be Filtered, then click the gear icon next to that person's name. On the "User Information" page find the "Services" box and check  "Filtering".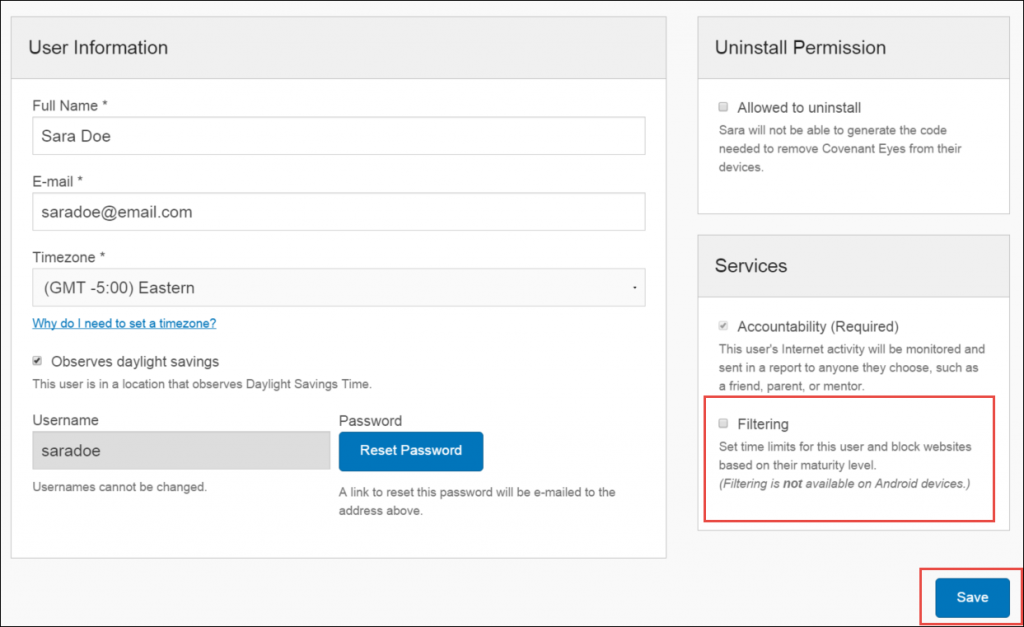 On a Family Account, there is no additional charge to add Filtering to any user. On Personal and Group accounts, Filtering is an additional $1.50 per month per username.
Once you are done, hit "Save" to apply your changes.
Adding Filter Guardians
In order to customize this user's Filter settings, you must assign them a Filter Guardian. This person will be able to adjust the sensitivity and set time controls (not yet available for mobile devices) for all filtered users on the account.
You can switch, invite, or assign a Filter Guardian for free in your online account.
To assign or invite a Filter Guardian, go to the "Manage Users" page in My Account. Click the gear icon by the user for whom you are assigning or inviting a Filter Guardian. Next, select the "Filtering" tab and click on "Guardians". Finally, you can assign another user from the account as the Filter Guardian, or invite someone from outside the account by entering an e-mail address.