How can I customize my Accountability Report?
In your online account, you can adjust what information you see on the Accountability Reports you receive by e-mail.
First, sign into "My Account." Under "My Profile," click on "Accountability," then select "Partners" to view the users whose Reports you receive.
You will see a list of every person you hold accountable. Find the person whose Report you wish to modify, then click "Edit Report Settings." (You may also stop receiving this person's Reports by clicking the "Remove Partner" button.)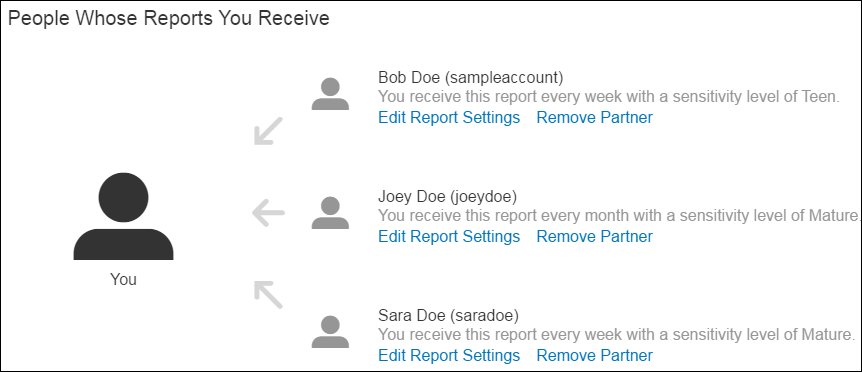 Report Frequency
Under "Frequency" you can modify what type of report you want to receive and how often you want to receive it.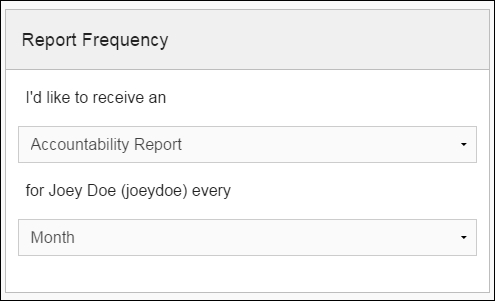 These are your Report Type choices:
Accountability Report: This is the default report type. In addition to listing questionable sites, it shows when the Internet user is active on the Web and other browsing trends. (We recommend using this style of report.)
E-mail Notification: Choosing this option will simply send you a reminder to sign into your online account, where you can generate a Report.
Old Accountability Report: This is our original design for the Accountability Report. Every domain name visited is listed by date. Any questionable sites or URLs are listed at the top of the report with the complete address, numerical scores, and time stamp.
Sensitivity
The default sensitivity level differs depending on whether you (or the person whose reports you receive) is listed as a Child or Adult. If you find the Report is showing too much information (or too little), simply pick a different sensitivity level to adjust what is shown.
There are four sensitivity levels:
T (Teen) Level – This will show all Web addresses and searches rated T and above.
MT (Mature Teen) Level – This will show all Web addresses and searches rated MT and above.
M (Mature) Level – This will show all Web addresses and searches rated M and above.
HM (Highly Mature) Level – This will only show Web addresses and searches rated HM.
(Learn more about what the ratings mean.)
Report Sections
Under "Report Sections" you can select which sections you want to see on Accountability Reports.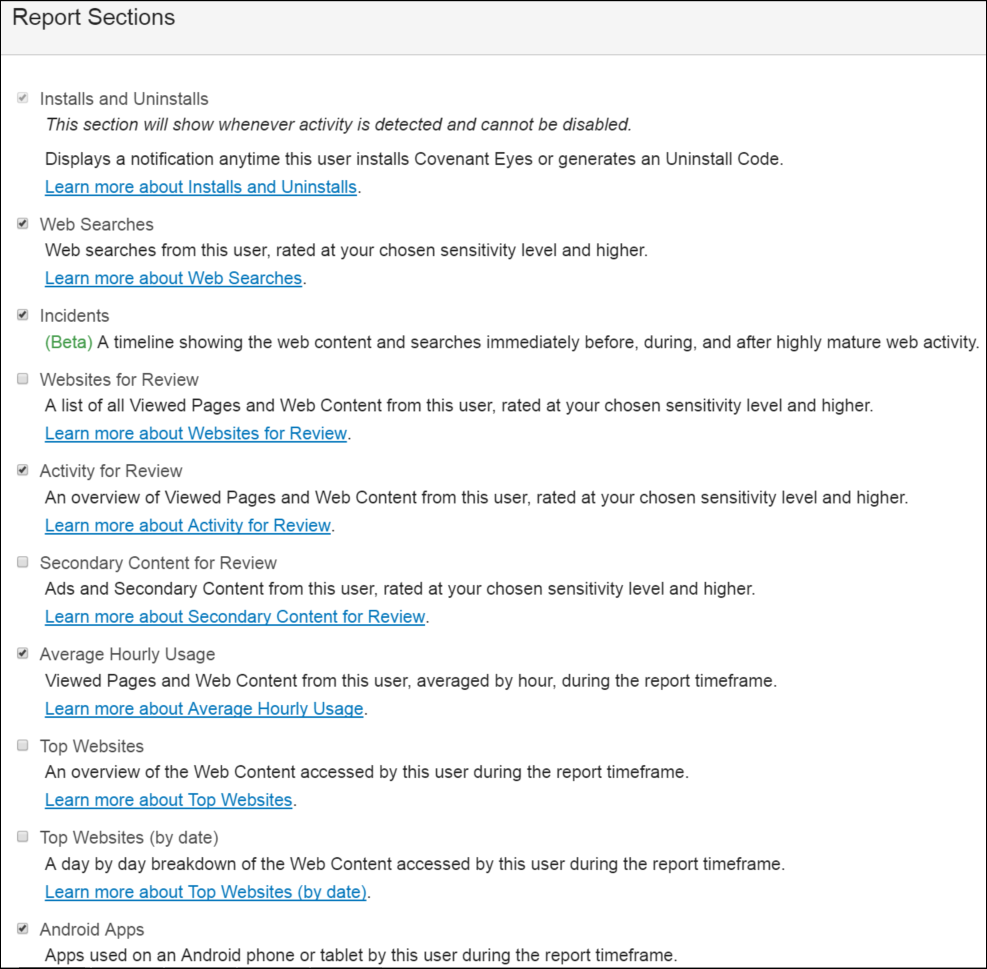 The available sections are:
Web Searches
Incidents
Websites for Review
Activity for Review
Secondary Content for Review
Average Hourly Usage
Top Websites
Top Websites (by date)
Android Apps
The "Install Log" section will appear on the report whenever activity is detected in those areas.
For a further explanation of these sections, see: "How do I read the Accountability Report?"
Saving Your Changes
When you are finished modifying these preferences, be sure to click "Save Settings."