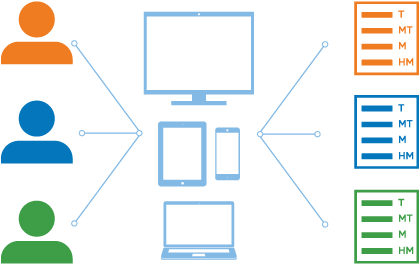 Unless you live alone or never use the Internet at home, you may want to create additional usernames for your account–one for every person in your household. By creating separate usernames, you will have better control over how each person uses the Internet.
For Accountability: If you only have one username, everyone's Internet activity will end up on one report. If you have multiple usernames, each person can have their own report.
For Filtering: If you only have one username, everyone who uses the Internet will be filtered the same way. If you have multiple usernames, each person can have their own Filter sensitivity settings and their own time controls.
How much will it cost to add a user?
The cost of additional usernames depends on whether you have a Personal Account, a Family Account, or a Group Account.
If you use a Family Account, the cost of additional usernames is already covered in your monthly or yearly subscription, so go ahead and add everyone in your home. (Learn how to switch to a Family Account.)
If you use a Personal or Group Account, each additional user costs a maximum of $3.50. (Learn more about our pricing.)
How do I add more users to my account?
Sign into your account and visit the Add User page.
Enter the full name, the desired username, password, e-mail address, and time zone for the user you are adding.
If you would like to prevent the user from uninstalling, un-check the box in the "Uninstall Permissions" section.
Choose the services you would like for this new user—Accountability or Accountability and Filtering—the administrator on the account automatically becomes the Filter Guardian. You can invite others to be your Filter Guardian as well.
Finish by clicking the "Add User" button.
How do I use multiple usernames on a single device?
Covenant Eyes allows you to easily switch between usernames by signing in and signing out with a different username. Additionally, if your computer's operating system allows you to have multiple user profiles, you can set a different Covenant Eyes username to sign in automatically with each user profile.
How to use multiple Covenant Eyes usernames on Windows
How to use multiple Covenant Eyes usernames on Mac