Setting Up Your Family Account
START YOUR FAMILY ACCOUNT ON THE RIGHT FOOT!
Covenant Eyes family accounts let you protect everyone in your home for one flat fee, making it easy to protect everyone in your home. But we know that the process can be confusing at times. Who and what is the "Account Administrator"? Who should receive peoples' Accountability Reports? How many usernames do you need? Where should you install Covenant Eyes?
This guide will help you think through how Covenant Eyes should work in your home.  Download a worksheet for your own home and follow along as we walk through the process.
There are only five things you need to know to set up your Covenant Eyes Account:
Who lives in your home?
With a Family Account,  you can give everyone in your home Internet Accountability for a flat rate of $15.99/mo., and give anyone Filtering at no extra cost. (Learn more about usernames.)
Who will be in charge of your account?
This person is the Account Administrator. He or she will be able to add users, remove users, and be in charge of billing.
Who will be in charge of adjusting Filter settings for  Filter users?
The Filter Guardian(s) can adjust the Filter Sensitivity Level, add sites to custom block or allow lists, and set time limits for Filter users on your account. (The Account Administrator will be one by default, but you can add or remove Filter Guardians later.)
Who will receive Accountability Reports for the people in your home?
These are Accountability Partners, and each person can have as many as they want. We recommend that parents receive the Accountability Reports for their kids, as a starting point.
What devices are in your home?
You can install Covenant Eyes on all your Windows and Mac computers, as well as any iPhones®, iPod touches®, iPads®, and Android™ phones and tablets (including Kindle Fire and Kindle Fire HD). We never charge by the device, so install it everywhere.
WALKING THROUGH ACCOUNT SETUP WITH A FAMILY
Now that we know the basic questions, let's walk through them by taking a look at a typical family of five. Remember, you may want to print out a worksheet and fill it out for your own family.
James, the father, uses the family's shared computer for a lot of his browsing online. He also uses an iPad for work, and has an Android phone for personal use. He's part of a men's accountability group and wants to send his reports to his friend Alec, who already uses Covenant Eyes.
Natalie, the mother, uses the family shared computer. She recently went back to work, and was assigned a MacBook Pro and an iPhone. She also carries a personal Android phone.
Tony, their oldest, is in high school. He uses the family shared computer for homework, and just saved up for his own iPhone. He tries to steer clear of porn, but he's seen it before, and admits it's tempting.
Mark is in middle school. An avid reader, he received a Kindle Fire for his birthday. He also uses the family shared computer.
Carrie is in elementary school. She does her homework on the family shared computer. When Tony got his smartphone, he gave Carrie his old iPod touch.
Taking this information, let's answer those questions!
1. Who lives in this home?
James, Natalie, Tony, Mark, and Carrie live in this home. That means all five of them will use Internet Accountability. James and Natalie have also agreed that Tony and Carrie will use Filtering.
2. Who will be in charge of the account?
James and Natalie have talked about it and decided that Natalie will be the Account Administrator. (This will also make her a Filter Guardian by default.)
3. Who will be in charge of Filter settings?
James and Natalie both want to be able to adjust Filter settings for their kids, so they will both be Filter Guardians. (James will be added as a Filter Guardian after the account has been created.)
4. Who will receive Accountability Reports?
James and Natalie will be Accountability Partners for each other and their kids. They want their oldest son Tony to see both sides of an Accountability relationship, so they will also set him as their Accountability Partner. Finally, James will also ask his friend Alec to be his Accountability Partner. (Alec has his own Covenant Eyes account already, so he will not be on James and Natalie's family account.) So the four Accountability Partners will be James, Natalie, Tony, and Alec.
5. What devices are in the home?
James and Natalie will install Covenant Eyes on the shared computer, James's iPad and Android phone, Natalie's Macbook Pro, iPhone, and Android phone, Tony's iPhone, Mark's Kindle Fire, and Carrie's iPod touch.
All told, that's one shared computer, one Macbook Pro, two Android phones, two iPhones, one iPad, one Kindle Fire, and one iPod touch.
Now that James and Natalie have a pretty good idea of which roles and services everyone will have, it's time to set up their account. They'll do some initial setup work when they sign up for Covenant Eyes, then finish things up by signing into My Account to download and install Covenant Eyes on all their devices, add Accountability Partners, and set up the Filter.
When James signs his family up for Covenant Eyes…
James will start by adding each member of his family and selecting which services they will use. He'll select Internet Accountability for himself, Natalie, and Mark, and Accountability and Filtering for Tony and Carrie.
As he adds each user, he'll have the option of inviting someone to be an Accountability Partner for each of them. Right now, he'll enter his own e-mail address. (He'll invite Natalie, Tony, and Alec to receive Accountability Reports in My Account after he has finished signing up.)
After he's done adding users, Tony will select Natalie as the Account Administrator. This will also make her Filter Guardian by default. (This is fine for their family, but if you don't want the Account Administrator to be the Filter Guardian, or want specific people to be Filter Guardians for specific users, you can change this later in My Account.)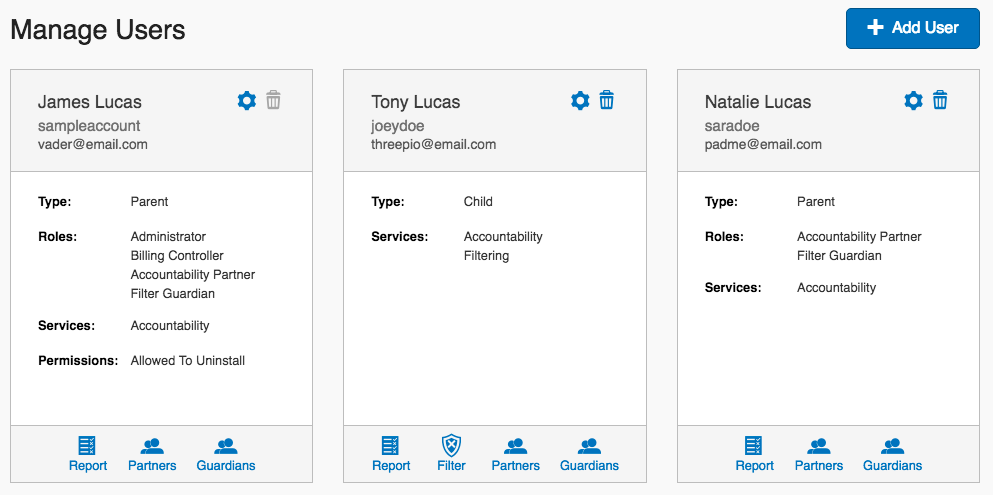 Just by signing up for Covenant Eyes, James has set up the services he wants everyone to use, and has also started customizing the user roles. Now, as the Account Administrator, it's Natalie's turn to finish setting up the account. She still needs to add herself, Tony, and Alec as Accountability Partners and add James as a Filter Guardian. She should also start customizing the Filter for their kids, and, of course, install Covenant Eyes on all their family's devices.
After the family is signed up for Covenant Eyes, Natalie will sign into My Account…
First, Natalie will add Accountability Partners. She can do this by clicking "Manage Users," then clicking "Partners" for each user and entering the e-mail addresses of each additional partner, or by selecting a user from the account from a dropdown. In James's case, she will select herself and Tony from the dropdown, and invite James's friend Alec as well. Each partner will get an e-mail asking them to confirm the request. (Get full instructions for adding Accountability Partners here.)
By the way, since she's the Account Administrator, Natalie can add Accountability Partners for everyone in her family, but each person also has the option to add Accountability Partners for themselves by signing into My Account with their own username and password. That means, when Tony goes off to college, he can add a friend or mentor to receive his Reports.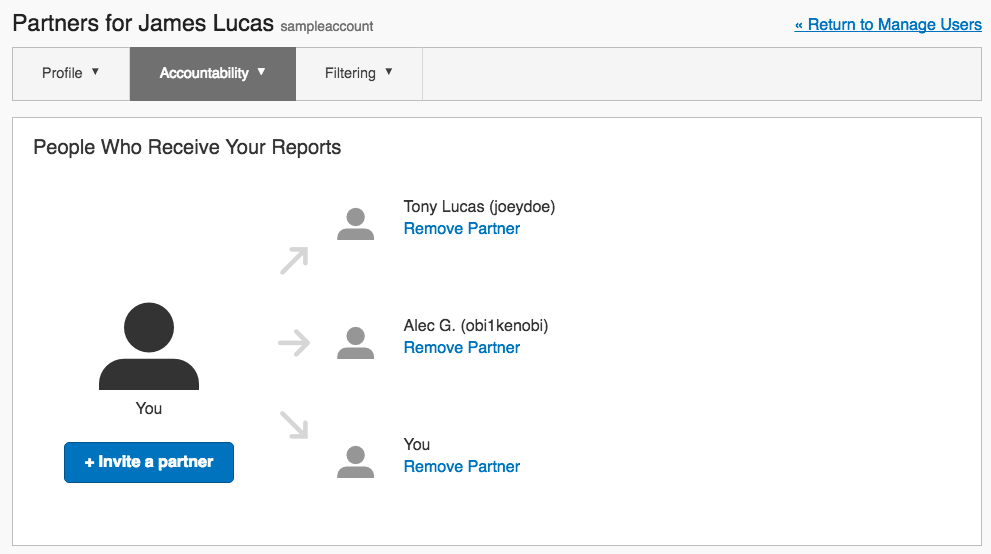 Next, Natalie will add James as an additional Filter Guardian for Tony and Carrie. On each of their user profiles, she will click on "Guardians" and add him from the drop-down.
Natalie will also adjust the Filter Settings for Tony and Carrie. Under "Filter Settings," she'll click "Edit settings" to set a default sensitivity level for each child. Since Tony is a teenager and is only using the Filter as a precaution, Natalie will set his Filter Sensitivity Level to MT, to block websites rated Mature or Highly Mature. Carrie is younger, and will use the Filter set at Y, blocking websites rated Teen or higher.
If Natalie knows that there are certain sites she wants to always block or always allow, she can customize the block and allow lists for Tony and Carrie. She can also set time-of-day blocking to shut down the Internet for them on their computers at certain times of day (such as after midnight). Any time she or James want to customize the Filter, they will just sign into My Account and make any changes they need to make.
Now that the whole family is set up, the only thing they have to do is install Covenant Eyes on the devices they own. Covenant Eyes has software for Windows and Mac computers, and apps for iPhone and Android phones and tablets. Even though the Lucas family has nine devices among the five of them, they will install Covenant Eyes on every single device at no extra cost.
Still have questions?
Don't forget to download a worksheet to help you think through how Covenant Eyes might work best in your family.
We also have full instructions on how to set up an account in our Get Started Guide. And, of course, we've got free technical support to answer any questions you might have. Check out our support articles, or call us toll-free in the US at 877.479.1119.